Levellers are a folk band from Brighton that draw on punk rock. Taking their name from the 17th century radicals from the time of the English Civil War who demanded radical democratic change, the band similarly use their music as a means to inspire change.
The band started when guitars and vocalist Mark Chadwick met bassist Jeremy Cunningham who soon found themselves agreeing over their shared left wing politics in Brighton pub The Eagle during 1988. Deciding to form a band they were soon joined by Charlie Heather on Drums and Jon Sevink on fiddle. Then later by Alan Miles on harmonica, guitar and the mandolin.
By the following year they released the EPs Carry Me, which benefitted from airplay on Radio 2, and Outside/Inside on their very own Hag Label. The success of which saw the band sign to French record label Musidisc under which they released their 1990 debut album Weapon Called The Word. Now considered an absolute classic, the album has managed to go platinum despite not troubling the charts upon its release.
The immediate period after the albums initial release saw great change as Alan Miles decided to call it a day and is replaced by Simon Friend. Also the band is recruited by Derek Green (who had previously signed Sex Pistols) who signs them to the independent label China with whom they stay with until 2000.
The first release under China came in 1991. Levelling The Land was the first real hit for the band, reaching Number 14 in the UK Album Chart and also eventually reaching Platinum sales. The record featured their ultimate indie anthem One Way.
Now firmly established, the band's popularity grew massively with the release of the self-titled album Levellers which shot to Number 2 when released in 1993. The Zeitgeist album, bolstered by the success of the single Hope Street saw the band finally hit Number 1 in 1995.
Since their beginning the band have released an amazing 16 records and continue to excite and educate ever younger audiences.
Levellers tickets can be bought through Gigantic.
This year sees them headline at The Leadmill at Sheffield on 10th of June. They will also play an eagerly awaited headline show at The Empire in Coventry on the 12th of August.
Levellers concert tickets are available online right now.
---
Related News
Buy Tickets With Confidence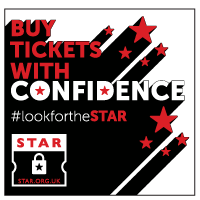 Gigantic are a primary ticket agent and full members of STAR (Secure Tickets from Authorised Retailers)
More info