Charity
Gigantic are proudly supporting the following charities:
Macmillan Cancer Support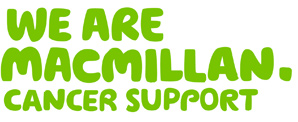 Macmillan Cancer Support improves the lives of people affected by cancer. We provide practical, medical and financial support and push for better cancer care. Cancer affects us all. We can all help. We are Macmillan.
We've set ourselves an impressive ambition. That's why we're delighted to be working with Gigantic to help make a huge difference to people affected by cancer. By rounding up your ticket price to the nearest pound, you'll be directly helping people through one of the toughest times of their lives. Pennies become pounds and together we can make a real difference.
Cancer is the toughest fight most of us will ever face. But you don't have to go through it alone. The Macmillan team is with you every step of the way, from the nurses and therapists helping you through treatment to the campaigners improving cancer care.
Macmillan's primary goal is to reach and improve the lives of everyone living with cancer. If you're worried about cancer or want to find out more about our work visit www.macmillan.org.uk or call us free on 0808 808 0000.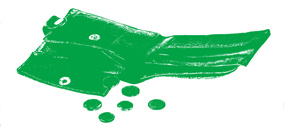 The Joe Strummer Foundation
The Joe Strummer Foundation gives opportunities to aspiring musicians and support to projects around the world that create social mobility through music.
Set up by the friends and family of Joe Strummer in the year after his death, The Joe Strummer Foundation seek to reflect Joe's unique contribution to the music world by offering support, resources and performance opportunities to musicians who would not normally have access to them and support to projects around the world that create social mobility through music.
How do we support charities?
We ask all our customers if they would like to include a charitable donation to one of the above charities when they are buying tickets through us. If you would like to leave a donation, you can do so in the following ways:
Round up your order to the nearest £1 or £5
Leave an amount of your choice
Look out for the charity section as part of the checkout process, it looks like this: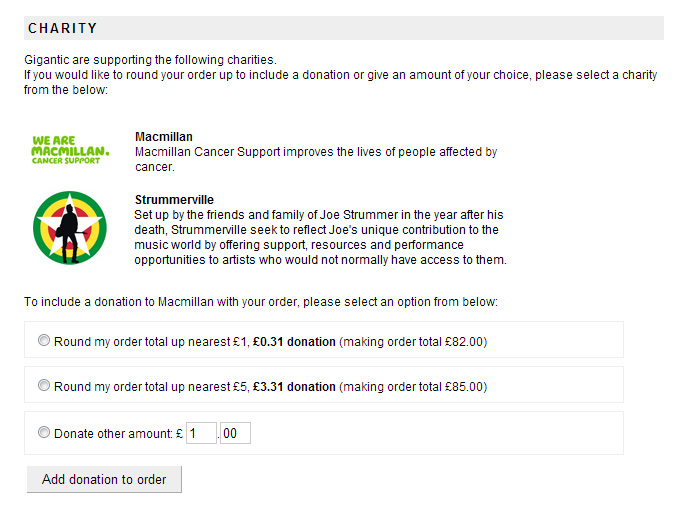 << Back
© 2016 Gigantic Tickets Limited. All rights reserved.