For most musicians fronting a seminal band such as The Jam would be career defining. Not so for Paul Weller. While the band that helped to shape the punk-infused landscape of England in the late 1970s is still an inspiration to many, Weller has refused to stand still. This autumn sees him embark on another UK tour in support of his 12th solo album Saturns Pattern - with Paul Weller tickets for this tour available here at Gigantic
The original 'Mod-father' is back, and kicking off the UK leg of his tour at Glastonbury in June. One of the most influential singer-songwriters of his generation, Weller's mellowed a little with age and that aggressive, guttural lyrical style that fired out a volley of hits throughout the Punk era with The Jam, has (dare we say it?) softened a little. He has developed a more rounded and complex musical style, with occasional flashes of that old energy that fuelled an entire generation of angry young men (and women). The result is that you never quite know what to expect with Paul Weller - yes, there are the moments of quiet reflection and introspection, but that brash, in-your-face vibrancy of his early career is never that far from the surface.
While he's perhaps best known by his Modfather moniker it's the name of one of his most famous songs that sums him up best. The Changingman. As a solo artist Weller, who released his first album under his own name in 1992, has remained relevant by constantly evolving, exploring his sound, reaching on his wide range of influences to produce albums that are soulful, rocking, experimental and much in between. And a Paul Weller Concert is no different!
Paul Weller tour dates sell out quickly, so if you want to discover which direction his musical wanderings are taking now, check out the availability of Paul Weller concert tickets here at Gigantic. Weller plays Glastonbury in June, followed by the Barclaycard British Summertime Festival in Hyde Park, London on the 26th June.
He's then off on a punishing world tour before arriving back in the UK in November, starting in Brighton on the 20th and finishing at the Eventim Apollo in London on the 4th and 5th December. In between he's visiting Bournemouth on the 21st, Cardiff on the 22nd, Glasgow on the 24th, Newcastle on the 25th, Birmingham on the 27th, Manchester on the 28th and Leeds on the 29th.
His first album for three years marks a return to a sound first developed with the Style Council, and 'Saturn's Pattern' is full of strong riffs, powerful vocals and the occasional horn section put to good use. In amongst the striking, energetic numbers are a few oases of calm, as the more reflective nature of Weller rears its head now and again, just to give you a chance to catch your breath. The same can be said of his live concerts, and it's clear from the amount of energy rolling off the stage and into the crowd that Weller pours his heart and soul into every note.
Rousing, ever popular and with a back catalogue that most musicians would kill for, Weller shows no sign of hanging up his Fred Perry tops and winklepickers, and is powering on with a new selection of songs, complemented by some old classics. Will you hear 'Down in the Tube Station at Midnight' if you buy Paul Weller tickets from Gigantic? Maybe, but don't be surprised if he puts a unique and previously unheard spin on it just for kicks.
At an age (56) when many performers are happy to go through the motions, relying on their back catalogue and good will from the audience, Weller remains as energetic and as urgent as ever. His refusal to look back or to rest on laurels means that a string of Paul Weller tour dates invariably includes new music, with fresh interpretations of classic tracks woven in between. Saturns Patterns is released in May 2015 - his third album in the last five years - and will undoubtedly form an important part of the set list - making these shows a must see for any fan.
The tour spans late November into December, starting in Brighton and ending in London's Eventim Apollo - with dates in Bournemouth, Cardiff, Glasgow, Newcastle, Birmingham, Manchester and Leeds in between. With a following that includes original fans of The Jam, Brit poppers and more recent converts, tickets will be snapped up quickly - so make sure you avoid disappointment by booking on Gigantic today.
---
Buy Tickets With Confidence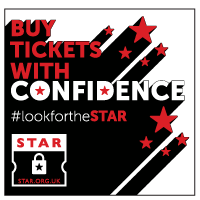 Gigantic are a primary ticket agent and full members of STAR (Secure Tickets from Authorised Retailers)
More info