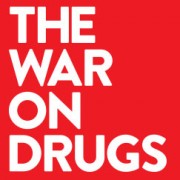 The War on Drugs Tickets
Philly band, The War On Drugs, will be coming to the UK in 2015. With tour dates up and down the country, this is not to be missed!

The War on Drug... Read mores is an American indie rock band from Philadelphia, Pennsylvania, formed in 2005. The War on Drugs band consists of Adam Granduciel, David Hartley, Robbie Bennett and Patrick Berkery.

The War on Drugs released their debut studio album, Wagonwheel Blues, in 2008 with the band's second studio album, Slave Ambient, released in 2011 to critical acclaim and extensive touring. A third album, Lost in the Dream, was released in March 2014.

Don't miss out on seeing The War on Drugs live tour. Get your tickets right here!
Dates and Tickets for The War on Drugs
© 2015 Gigantic Tickets Limited. All rights reserved.