Northern Irish punk band The Undertones are a bit of a hit factory. The group are responsible for writing such pop punk classics as Jimmy Jimmy, Here Comes The Summer, My Perfect Cousin and, of course, Teenage Kicks
The Derry band first formed by friends in 1974 drawing influence from the likes of The Beatles, Small Faces and Lindisfarne and began by knocking a few covers about. By 1976 they still hadn't really got anywhere having not even decided on a name, but they began by playing gigs in small venues around the local vicinity.
They had decided on the name The Undertones just before the arrival of punk rock. The new ferocious sound totally changed their sound and they were quick to adopt to the three chord formula. In 1977 they became a resident band for popular nearby venue The Casbah and would dedicate more time sharpening their live performance and song writing through hard practice. By the end of the year they had penned their signature song Teenage Kicks and began to gig outside Derry for the first time.
They suffered initial knock backs from various labels who were uninterested in their demo tapes but were to find a champion in BBC Radio 1 DJ John Peel. Being amongst the first to recognise the potential in their primitive recordings, Peel put his hand in his own pocket and financed the £200 it cost to record the four songs that became the Teenage Kicks EP - well publicised to be Peel's favourite song. The song was a great success hitting #31 in the UK single charts.
This created the breakthrough the band badly needed and ensured label interest and the release of the epnonyously titled debut album The Undertones in 1979 which hit #13. Second album Hypnotised faired even better rising to #6 in 1980 with third album Positive Touch charting at #17 in 1981. The band's fourth album The Sin Of Pride preceded their 1983 split.
The band reunited at the end of the Nineties, initially just playing live concerts but began to record again. They have released the two albums Get What You Need and Dig Yourself Deep since reforming.
The Undertones tickets are on sale now. Get your concert tickets through Gigantic today!
Celebrating their 40th Anniversary with an Autumn tour, they will play at Engine Rooms at Southampton, O2 Academy Bristol and Academy 2 in Manchester during March before pushing on to Waterfront at Norwich in November.
Their gig tickets are highly sought but are limited so please book early to avoid being disappointed.
---
Buy Tickets With Confidence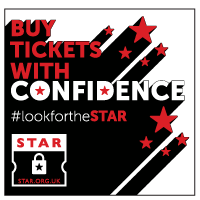 Gigantic are a primary ticket agent and full members of STAR (Secure Tickets from Authorised Retailers)
More info