After a break of over 3 years, Yorkshire rockers Terrorvision are back!
Following their appearances as special guests to Thunder, the band will embark on their own headline tour around the UK. The Regular Urban Survivors Tour will coincide with the 20th anniversary of the platinum selling album. Fans joining the band on the November dates will be able to hear the pivotal album in full as well as other Rock n Roll hits from the band's catalogue.
Terrorvision were born in 1988 out of the remnants of a glam rock mess called "Spoilt Brats". The band released their first albumFormaldehyde in 1992. Although showing their obvious Heavy Metal influences, there was a sense of humour and pop leaning which could not be hidden, particularly in their breakthrough single 'My House'.
Released in 1996, Regular Urban Survivors notched up four more Top-30 singles for the band, including 'Perseverance', which debuted at number 5 on the UK charts; consequently, the album swiftly went Gold. While celebrating their success in Madrid, tequila-fuelled and on another European jaunt, frontman Tony smashed both his ankles trying to scale the walls of the Hard Rock café to rearrange its famous logo. Gigs were curtailed only briefly but ideas for new songs were hatched and soon the band was back out on the road, taking on Glastonbury and Reading in 1997.
---
Buy Tickets With Confidence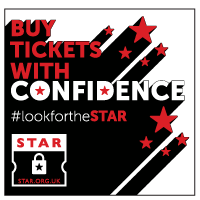 Gigantic are a primary ticket agent and full members of STAR (Secure Tickets from Authorised Retailers)
More info