NEW SHOWS

Find yourself along the beautiful Cornish coastline and experience the wonder of Live In The Wyldes arts, culture and music festival. Next summer, the headliners include world class acts as Jack Savoretti, Keane and Rag 'n' Bone Man.
Call of the Wild boasts an impressive line-up of essential rock bands including headliners Phil Campbell and the Bastard Sons and Massive Wagons plus performances from Raging Speedhorn, Warrior Soul and more.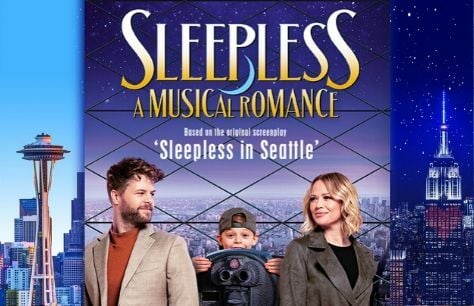 Sleepless: A Musical Romance is a wonderful re-interpretation of the classic 90's movie as an enchanting romantic musical starring Kimberley Walsh and Michael D. Xavier.
British reggae doesn't come any finer than the music of Birmingham band UB40. See them perform all their classics hits when they tour throughout March with more dates later in the year.
Gigantic is passionate about music and we proudly provide you with an ever-growing selection of tickets to the best gigs, exciting events and unmissable festivals. Make sure you don't miss the release of tickets for your favourite artist by setting a personal reminder with Gigantic that will alert you with an email or text message just prior to their release.
With even more being added to our unrivalled choice of tickets every single day, it makes sense to LIKE & FOLLOW Gigantic on Twitter, Instagram and Facebook to get the latest live music news. Also, make sure you SUBSCRIBE to our emails too!
Check out what other exciting events and shows are going on sale with Gigantic this week:
Gentleman's Dub Club \\ SHOWHAWK DUO \\ Portico Quartet \\ John Grant \\ Goldie Lookin Chain \\ Xentrix \\ The Slow Show \\ LIFE \\ Hang Massive
RESCHEDULED SHOWS
Please remember, Gigantic is not the promoter or organiser for any shows, events or festivals we sell for and so we are not responsible for the scheduling or any changes to the dates. Unless Gigantic has contacted you to say otherwise, all events will be going ahead as originally billed.
At this time, there are a great many changes to the scheduling for your own health and safety. When an organiser postpones an event or changes the date, we will immediately email you with all the pertinent information so please check your inbox (and spam folder) regularly. Our site is constantly being updated with the latest correct listings. Please check both regularly to get the latest correct scheduling information. We also advise you to familiarise yourself with our Terms & Conditions.
Should you have already received tickets for the original date, please keep them safe as they will be valid for the new date and will not be replaced (unless you are specifically instructed by us via email otherwise). Gigantic will not be able to replace them should they be lost or damaged.