Psychedelic rock band Kula Shaker draw much of their influence from Indian culture with lyrics written in Sanskrit and blend it with brash western rock and roll. The music features the use of distorted guitars and drums with sitars, table and tamboura. The band have an impressive number of hit singles such as Govinda, Hush, Tattva, Hey Dude and Sound Of Drums.
Kula Shaker were formed following Crispian Mill's backpacking journey to India where he would develop a passionate interest in Hinduist culture. After returning to the UK the singer would form the band called The Kays who then played their debut gig at the auspicious Glastonbury Festival in 1993. Mills pushed his vision of the band being more centred around India influences and started with a change in name. Their band name derives from the 8th century Indian emperor King Kulasekhara, a name considered lucky which they hoped would change their fortunes.
They signed to Columbia Records and released their debut album K in 1996. The record sold over 850,000 in the UK alone topping the Album charts at #1. This was followed by their album Peasents, Pigs & Astronauts which was also a Top 20 album.
Kula Shaker would split in 1999 and would reform in 2004 whilst working on the concept album School Of Braja. They have since released the albums Strangefolk in 2007 and Pilgrims Progress in 2010.
The band released their brand new album K 2.0 earlier this year. The fantastic album is available on CD, MP3 and Vinyl Record through the label StrangeF.O.L.K. The record was received well by critics and rose to #35 in the album charts.
Kula Shaker tickets will be available through the Gigantic website on Friday 3rd of June from 09:00 onwards. See them celebrate the 20th Anniversary of their classic debut album K in December at Rock City in Nottingham. See them play their fantastic sets at O2 Institute Birmingham and O2 Academy Bristol also in December.
Always book your concert tickets early to avoid disappointment.
---
Buy Tickets With Confidence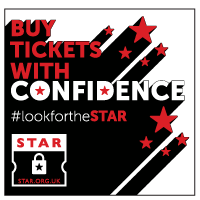 Gigantic are a primary ticket agent and full members of STAR (Secure Tickets from Authorised Retailers)
More info