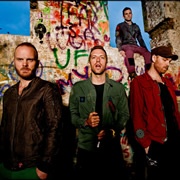 Coldplay Tickets
When vocalist and pianist Chris Martin and guitarist Jonny Buckland met in halls at University College London in 1996, they couldn't have envisaged ... Read morethat just a few short years later they would be part of a globally recognised band. A year later, the musicians were joined by bassist Guy Berryman and drummer Will Champion, and the ensemble eventually settled on the name Coldplay.

Fans across the world now clamour for Coldplay tickets, hoping to see this incredibly successful four-piece in action. Over the years, the group have honed their straight cut, heartfelt, soulful act and seeing Coldplay live is now a truly unforgettable experience.

With their breakthrough single 'Yellow', released in 2000, the band burst onto the British music scene and when their debut studio album 'Parachutes' hit the shelves later that year, it was lapped up by music lovers across the world. The album has since sold more than eight million copies.

However, it was their second album, 'A Rush of Blood to the Head', released in 2002, that really catapulted the band into the limelight. Heavier in sound than its predecessor, it featured classics including the eight-minute long 'Politik' and the now iconic 'The Scientist'. Twelve years, five albums and multiple Grammy awards later, Coldplay released their latest album 'Ghost Stories' in May 2014. Within its first week, this sophisticated, emotion-packed record had shifted 168,000 copies. Released shortly after the separation of Martin from actress Gwyneth Paltrow, it is saturated with pathos, containing tracks such as the haunting 'Always in My Head' and the imploring 'Another's Arms'. However, the album also offers hope and comfort, in typical Coldplay style.

If you've ever been lucky enough to witness Coldplay concerts, you'll know that the band are unlike any other on stage, but of course all musicians get their influence from somewhere. Martin credits the '80s Norwegian pop band A-Ha with inspiring him to start a band. The talented four-piece have also drawn inspiration from the likes of The Stone Roses, Neil Young, Bob Dylan and My Bloody Valentine.

To see this sleek musical outfit in action on stage, keep a lookout on our website for the next Coldplay tour.

Dates and Tickets for Coldplay
Sorry we currently have no dates available for Coldplay.
© 2015 Gigantic Tickets Limited. All rights reserved.