In March 2017, The Stranglers will head out on a full UK tour which will see them play material both new and old from their extensive back catalogue. Gigantic has gig ticket for their shows at legendary Nottingham venue Rock City on Monday 13th, O2 Academy Leeds on Friday 17th and O2 Guildhall Southampton on Monday 20th.
Forming in 1974, the band were initially called Guildford Stranglers before shortening the name when they became swept up in the emerging punk movement. Embracing the ferocity of the new sound, they explored greater avenues than the three chord model of the day being led by the bass and including the use of organ.
In a furious burst of creative energy, their first three albums were release in the short space of just thirteen months. Debut album Rattus Norvegicus, released in April of 1977, peaked at #4 and included their punk classis Peaches. Followed just five months later in September 1977, follow up album No More Heroes smashed into the charts at #2 largely thanks to the singles Something Better Change and the record's title track which has subsequently become The Stranglers signature song. Controversial, sarcastic and somewhat depraved, it was easy to miss the ideas being discussed under the punk bluster and a deeper investigation reveals the initial two albums sing of anti-racism, dealing with loss and the apocalyptic visions of Nostrodamus.
The band's third studio album Black & White was unleashed in May 1978 and showed them to be the first of their peers to break away from the 'punk' formula of the previous year. Described recently by journalist John Robb as '
the first post punk album
', its release was acclaimed by fans and critics alike at the time and also reached #2 in the charts. Lyrically, subject matter had been broadened by the band's recent travels around the world and included the Cold War, Yukio Mishima, Sweden and Hell's Angels. Musically, taking inspiration from influences as diverse as Devo and Captain Beefheart, the album pushed the boundaries of the band's established sound and they experimented with quirky time signatures and synthesisers-one track even includes a morse code message! The album was split into two distinct 'sides'-the 'white side' proving closer to the band's first two albums while the 'black side' was a darker and more challenging listen. To underline the stark & polarised content of the album, a press junket to Iceland was organised which ended up with a variety of accidents affecting various journalists...
Their prolific output continues with new releases still being made. Their back catalogue also includes The Raven, La Folie, Aural Sculpture, Dreamtime and their latest released Giants.
The Stranglers tickets will become available at 09:00 on Friday 23rd of September. Set a personal reminder to arrive via text message or email so you are ready for their release.
Concert tickets for this cult band are expected to sell quickly so book early are risk missing out!
---
Buy Tickets With Confidence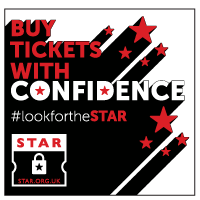 Gigantic are a primary ticket agent and full members of STAR (Secure Tickets from Authorised Retailers)
More info