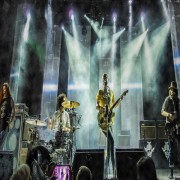 The Dandy Warhols Tickets
Portland rockers The Dandy Warhols will play Nottingham, Leicester, Brighton, Bristol and Oxford during their July 2014 UK tour! Book your Dandy Warho... Read morels tickets with Gigantic today.

Although the band start its career twenty years ago in 1994 and released their first record 'Dandys Rule OK' in 1995, the band didn't start to gain recognition until they landed a record deal with Capitol Records and unleashed their 1997 record '...The Dandy Warhols Come Down'. This record helped to launch the four-piece on a universal scale, which grew rapidly following their hugely popular single 'Bohemian Like You' in 2001.

Over the years the band has remained largely unchanged with the only line-up change occurring in 1998 when drummer Eric Hedford parted with the group and was replaced by Brent DeBoer. To date The Dandy Warhols have released 9 studio albums, the latest being 2012's This Machine.

Purchase your Dandy Warhols tickets below.
Dates and Tickets for The Dandy Warhols
Sorry we currently have no dates available for The Dandy Warhols.
© 2015 Gigantic Tickets Limited. All rights reserved.