Though they will of course be best known by many for their catchy, zany hit singles Danger! High Voltage and Gay Bar, Electric Six are far from being a one (or two) trick pony, and over the course of a dozen albums spanning more than a decade they have explored a wide range of musical genres in their own inimitable and instantly recognisable way.
Later this year, UK fans of the Detroit-based oddball rockers will have the chance to see them perform in all their strange glory, with the announcement of a number of Electric Six concerts across the country. Starting in November they will play at Sub 89 in Reading, O2 Academy2 Newcastle, O2 Academy2 Liverpool and O2 Academy2 Birmingham.
They will continue to tear through the stage in December when the tour sees them perform at O2 Academy2 Sheffield, O2 Academy Islington, Concorde 2 in Brighton and The Globe at Cardiff.
Though the band first achieved mainstream success in the early noughties with their debut album Fire and its hit singles Dance Commander, Danger! High Voltage and, Gay Bar, they had actually been performing in the Detroit area and elsewhere in their native Michigan since 1996.
Today the band is comprised of six members including Dick Valentine, Smorgasbord and Percussion World. But in the past there have at least 16 former members of the band, many with equally outlandish stage names, such as Rock and Roll Indian, Disco, The Colonel and Dr Diet Mountain Dew.
Though many bands are described as having a unique and distinctive sound, in the case of Electric Six the description really does fit, and heading to one these upcoming Electric Six tour dates is the only way to fully appreciate this. Fusing elements of disco, funk, punk, garage, metal and other genres in varying measures the band have constantly reinvented themselves throughout the years. This has been evident on their many albums such as Sexy Trash, Zodiac and the creatively titled I Shall Exterminate Everything Around Me That Restricts Me From Being the Master.
Most recently the band has released a Kickstarter-funded album of rare recordings and cover versions entitled Mimicry and Memories. Keep an ear out for some of these in the upcoming concerts and be sure to grab your Electric Six tickets here while you can.
Electric Six tickets are now available through the website. Book early to avoid disappointment.
---
Buy Tickets With Confidence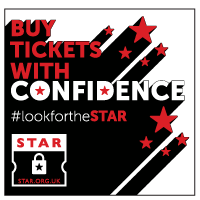 Gigantic are a primary ticket agent and full members of STAR (Secure Tickets from Authorised Retailers)
More info