Skinny Lister are the most exciting band in rock and roll. Their totally unique brand of folk punk has seen them singing on whilst wing walking, touring in a narrow boat, swimming in the seas and treasure hunting. Which is quite fitting for a band whose songs sing of love, fighting and drinking. This London based band have a reputation for the frenetic, energetic and chaotic lives shows as the six-piece crowd surf through their sensational sets.
The group somehow found each other in the folk clubs of Greenwich in 2009. Taking their title from the nickname of someone founding member Dan Heptinstall went to school with, the band proceeded to indulge their love of the raconteur live style through music.
Their first EP, Grand Union, was recorded on a canal boat as they chugged down the Grand Union Canal Network and released in 2010. Their Homemade Tour EP was released later that year. Having some tracks laid down, the band proceeded to gig - hard. Touring America, they played SXSW and Vans Warped Tour in 2012 before playing Haldern Pop Festival and Reeperbahn Festival in Germany.
Somehow Skinny Lister found the time to return to the studio and record their debut album, Forge & Flagon which was given an international release.
The following year the band again played across Germany and America and numerous major festivals across the world.
In 2014 the band signed to Xtra Mile Recordings and released their second album, Down On Deptford Broadway. The year also saw them support Dropkick Murphys play their tour of the United States and also support Boy George's tour of the UK.
Skinny Lister tickets are on sale right now.
This summer the band will be playing at the almighty Download Festival which takes place at Donnington Park from Friday 10th till Sunday 12th of June.
Concert tickets can be bought online through Gigantic. Make sure you don't miss out on seeing Skinny Lister.
October sees them play some fantastic headline dates including Waterfront in Norwich, The Bodega Social in Nottingham, O2 Academy2 Leicester, Bristol Exchange and The Garage in London.
Concert tickets can be bought online through Gigantic. Make sure you don't miss out on seeing Skinny Lister.
Due to popular demand they are already booked to play Scala London on Thursday 11th of May, 2017.
---
Buy Tickets With Confidence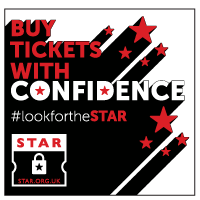 Gigantic are a primary ticket agent and full members of STAR (Secure Tickets from Authorised Retailers)
More info