Reggae should be laid back, easy going and chilled out. Not when Skindred get their hands on it, is isn't! This is Reggae with attitude, fired up with a healthy dose of post-punk thrash and heavy metal to create a unique sound that's been a big hit on the festival circuit. Now the band from Wales are bringing their unique take on the Reggae genre to venues across the UK and at Gigantic we've got tickets for the majority of the Skindred tour dates this year. But we expect these tickets to move quickly so if you want to discover what happens when Bob Marley meets Motorhead, you'll need to grab yours now.
The tour kicks off in style at the Tramshed in Cardiff on October 31st, and then heads off to Norwich on the 5th November, Nottingham on the 6th and then Manchester Academy on the 7th. They then make the journey further north up to Newcastle on the 8th and then back down to Bristol on the 12th. The tour finishes up in London at the legendary O2 Academy in Brixton on November 14th. Skindred concert tickets for all of these dates are available from Gigantic.
Formed in 1998 out of the remains of vocalist Benji Webbe's previous band, Dub War, Skindred had a slightly shaky start as it took some time to finalise the line-up. However, once the band members had been confirmed, they started work on their debut album 'Babylon'. It made its appearance in 2002 and had some success in the European and US metal scene. In 2004 the band re-released the album with new artwork and additional tracks. This time the album popped, and picked up some serious critical acclaim as well as a solid fanbase following.
Skindred went on to hit the tour circuits, as well as releasing four more albums, 'Roots Rock Riot' in 2007, the successful 'Shark Bites and Dog Fights' in 2009, followed by 'Union Black' in 2011 and 'Kill the Power' in 2014. Their new album 'Volume' is scheduled for release this year. The band has also managed to collect a couple of awards, including The Metal Hammer Golden Gods award for 'Best Live Band' in 2011. Since then they've gone from strength to strength, and their live performances are now regarded as some of the best on the metal circuit. The Reggae undertones are still there, but the band's unique sound has to be experienced to be fully appreciated. Grab your Skindred tickets from Gigantic now.
---
Buy Tickets With Confidence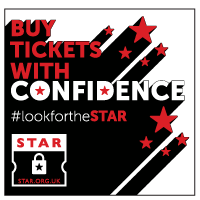 Gigantic are a primary ticket agent and full members of STAR (Secure Tickets from Authorised Retailers)
More info