Grammy Award-winning LA rockers Eagles are one of the pillars of popular music. Selling more than 200 million records worldwide, their phenomenal singles including "Hotel California", "Best Of My Love", "I Can't Tell You Why" and "New Kid In Town" have come to define the golden age of rock and roll.
Eagles fly high once again, and announce major arena shows for the new year. Set your personal reminder with Gigantic and look forward to hearing all their classic hits from right across their glittering career.
📆 JUNE 2022
20/06 Eagles – Anfield Stadium, Liverpool
22/06 Eagles – BT Murrayfield Stadium, Edinburgh
TOP SELLERS
Machine Head & Amon Amarth join forces for a mighty metal tour featuring two of the greatest hard rock heavyweights of all time! Throw your horns in the air and get ready for the most intense face melting riffs – ever.
📆 SEPTEMBER 2022
08/09 Machine Head & Amon Amarth – Motorpoint Arena Nottingham, Nottingham
09/09 Machine Head & Amon Amarth – Motorpoint Arena Cardiff, Cardiff
10/09 Machine Head & Amon Amarth – The SSE Arena, Wembley, London
12/09 Machine Head & Amon Amarth – AO Arena, Manchester
Relive the decadent 80's with the best of the bands and popstars at Lets Rock! The travelling festival has just announced their huge line up which includes such world class acts as Squeeze, Wet Wet Wet, The Human League, Bananarama and many more!
📆 MAY 2022
21/08 Let's Rock The Moor! – Marsh Meadow, Cookham
28/08 Let's Rock Norwich! – Earlham Park, Norwich
📆 JUNE 2022
04/06 Let's Rock Wales! – Tredegar Park, Newport
11/06 Let's Rock The North East! – Herrington Country Park, Sunderland
18/06 Let's Rock Scotland! – Dalkeith Country Park, Edinburgh
25/06 Let's Rock Leeds! – Temple Newsam, Leeds
📆 JULY 2022
02/07 Let's Rock Exeter! – Powderham Castle, Exeter
09/07 Let's Rock Southampton! – Southampton Common, Southampton
16/07 Let's Rock Shrewsbury! – The Quarry, Shrewsbury
30/07 Let's Rock Liverpool! – Wavertree Playing Fields (Mystery), Liverpool
📆 AUGUST 2022
06/08 Let's Rock Northern Ireland! – Ward Park, Bangor
📆 SEPTEMBER 2022
03/09 Let's Rock Kent! – Mote Park, Maidstone
10/09 Let's Rock Essex! – Kings Farm, Chelmsford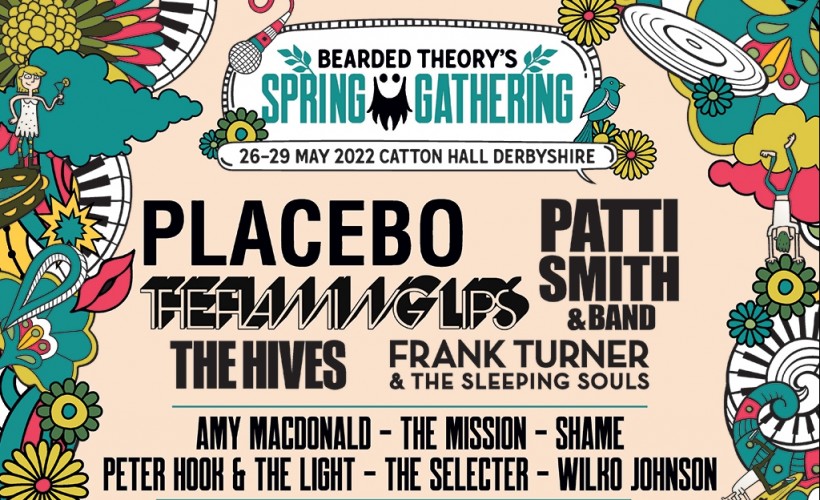 Family friendly festival Bearded Theory has just announced a star studded line up packed full of awesome acts. Including Placebo, Patti Smith & Band, The Flaming Lips, The Hives, Frank Tuner & The Sleeping Souls – the big names go on and on!
📆 MAY 2022
26 – 29/05 Bearded Theory – Catton Hall, Walton-on-Trent
FEATURED
Combing observational spoken word with cutting post punk; Dry Cleaning are the definitive sound of a broken BREXIT Britain. They announce a huge tour in support of their acclaimed debut album New Long Leg.
📆 February 2022
14/02 Dry Cleaning – Arts Club Liverpool, Liverpool
23/02 Dry Cleaning – The Marble Factory, Bristol
25/02 Dry Cleaning – Academy 2, Manchester
26/02 Dry Cleaning – The Leadmill, Sheffield
27/02 Dry Cleaning – Rescue Rooms, Nottingham
📆 MARCH 2022
01/03 Dry Cleaning – Wedgewood Rooms, Portsmouth
02/03 Dry Cleaning – Concorde 2, Brighton
30/03 Dry Cleaning – O2 Academy Leicester, Leicester
31/03 Dry Cleaning – Cambridge Junction, Cambridge
📆 APRIL 2022
01/04 Strange Waves – O2 Manchester Ritz, Manchester
Otherwordly hip hop pairing Earthgang prepare to drop new album Ghetto Gods – destined to be one of the biggest rap records of the year. They promote it with huge headline dates, sure to thrill their U.K. fans!
📆 MARCH 2022
09/03 Earthgang – The Mill, Birmingham
11/03 Earthgang – O2 Manchester Ritz, Manchester
14/03 Earthgang – O2 Academy Bristol, Bristol
15/03 Earthgang – Roundhouse, London