With the release of Illmatic, Nas quickly established himself as a hip hop icon and has become one of the hottest artists on the music scene today. The landmark album has been lauded by critics as one of the most exemplary hip hop recordings of all time. Illmatic contributed to the revival of the New York City rap scene and has been consistently ranked near the top of many "best album" lists. Today, the collection remains one of the most widely celebrated and influential albums in history with Rolling Stone proclaiming, "a portrait of an artist as a hood, loner, tortured soul, juvenile delinquent, and fledgling social critic… [the album] still stands as one of rap's crowning achievements." NPR Music called the collection "[a] masterwork of story-telling, lyricism and beat-making," while upon the album's release, The Village Voice gave Nas the title of, "one of the most important writers of the 20th century."
With hundreds of thousands of words alongside entire books written on the album, it seems almost trite today to discuss the universal impact and acclaim that Illmatic had on rap. Put simply: the album has long been considered a masterpiece not just in hip hop, but music as a whole, inspiring countless subsequent rappers and establishing Nas as the most vivid storyteller of urban life since Rakim and Chuck D.
Music critic Marc Lamont Hill of PopMatters elaborates on Nas's lyricism and delivery throughout the album, stating "Nas' complex rhyme patterns, clever word play, and impressive vocab took the art [of rapping] to previously unprecedented heights.
Nas emerged from the Queensbridge neighborhood of Long Island City, a hotbed of rap artists since the '80s. The son of jazz trumpeter Olu Dara, he has since gone on to sell over 20 million albums worldwide over the span of his legendary career, and has acted as an ambassador for hip-hop culture throughout the globe.
Since the release of Illmatic, he has released 9 solo albums and 3 compilations all of which have been certified double-platinum, platinum and gold. His most recent release was 2012's Life Is Good, which debuted at #1 on the Billboard Top 200, marking the sixth #1 album that Nas has produced in his career. The collection also received four GRAMMY nominations bringing the rap icon's GRAMMY recognition count to 13 overall.
Nas has remained vital and relevant for over 20 years, it's just a fact.
It therefore comes as no surprise that fans have been awaiting the confirmation of this tour which marks a very significant 'moment' for hip hop as well as Nasir bin Olu Dara Jones (NAS) himself.
---
Related News

---
Buy Tickets With Confidence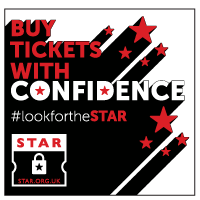 Gigantic are a primary ticket agent and full members of STAR (Secure Tickets from Authorised Retailers)
More info