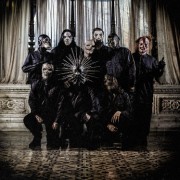 Slipknot Tickets
SLIPKNOT RETURN TO THE UK IN 2015

WITH SPECIAL GUESTS
KORN

The multi-platinum, Grammy-Award-winning, masked beast that is SLIPKNOT is set to m... Read moreake a long awaited return to UK arenas in January 2015 with their 'Prepare For Hell' tour.

SLIPKNOT's frontman Corey Taylor muses; "The UK has always been very special for us. In a lot of ways, it's where this insanity began. So, for this tour, we decided to try and hit as many places as we could - not only England, but Scotland and Wales as well. Technically Ireland is Europe, but we're going there too. We're coming back for the people who started this for us: that would be YOU. Prepare yourselves... Hell is coming."

The incendiary band's first new music in over six years, the fiercely anticipated, '5; The Gray Chapter' is set for release on 20th October and can be pre-ordered at iTunes (https://itunes.apple.com/gb/album/.5-gray-chapter-special-edition/id911121206) and Amazon (http://www.amazon.co.uk/5-Gray-Chapter-Special-Edition/dp/B00N0T38LG). The band's lead single from the opus, 'The Devil In I' has just been added to the Radio 1 Playlist and SLIPKNOT's gradual creep on world domination has begun once more. SLIPKNOT's visually arresting, chaotic, spectacular shows often become the stuff of legend, so with all new masks and production, these events are essential! Check out the band's new look in their chilling video for 'The Devil In I' at: https://www.youtube.com/watch?v=XEEasR7hVhA.

Special guests on the tour are SLIPKNOT's longtime friends, KORN.
Dates and Tickets for Slipknot
Sorry we currently have no dates available for Slipknot.
© 2015 Gigantic Tickets Limited. All rights reserved.