Australian singer, songwriter and musician Ry X has successfully transformed from surfing enthusiast to a musician of note, producing truly special music.
"
RY X was a seed that was planted, gently watered and nurtured. And it has grown, and blossomed. It has already grown beyond what I initially imagined.
" -
RY X
Ry Cuming has been quick in seizing his moment having dedicated his life to music following first hearing the Jeff Buckley album Grace. His track Let Your Spirit Fly was used in the soundtrack of the 2006 film Hoot.
He relocated from his home of Angourie in New South Wales to Los Angeles, California, in 2010 and was swiftly signed by Jive Records.
Nis newly released debut album entitled Dawn has just coming out. It features the sublime song Salt which, similarly to all the tracks on the amazing album, was recorded live to ensure that all the beautiful subtleties and idiosyncrcies were not loss in the production process.
Gentle, endearing and touchingly fragile, the song is cinematic in scope yet tender enough to remain personal to the listener. Perhaps there is something in the way that the song is careful to not overstep into something larger, and the off the cuff feel establishes a true relationship between musician and listener.
With such care and attention paid to the powerful songs then there is little wonder why the album hit #34 in the UK Album chart upon its release. Speaking about the new album, Ry X stated "
I have followed my heart and it has been a beautiful process of building trust with myself, as an artist, and person.
"
Ry X tickets can soon be yours through Gigantic.com when they go on sale at 09:00 on Friday 15th of July. You can use the website to set your very own personal reminder so you are ready for when they come on sale.
This November sees him play an exciting set at St Bartholomew's Church in Brighton and the incredible venue O2 Shepherds Bush Empire in London.
As you would expect, gig tickets will be limited so we really do urge you to book early to avoid any disappointment.
---
Related News
Buy Tickets With Confidence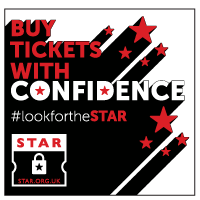 Gigantic are a primary ticket agent and full members of STAR (Secure Tickets from Authorised Retailers)
More info