Highlights
Ozzy Osbourne is the Prince Of Darkness! Having risen to fame with pioneering heavy metal band Black Sabbath, his life has been non-stop excess whilst singing about occult oddity to adoring audiences the world over.
See your favourite bat eater as he embarks on No More Tours 2 which brings him to an arena near you. Tickets are sure to fly off the shelves so set a personal reminder with Gigantic right now!

Steely Dan have been rocking your socks off since the 70's, growing into one of the world's biggest bands. They play Manchester Arena, Genting Arena at Birmingham and The SSE Arena, Wembley in London where they will be joined by special guest Steve Winwood.

Led by the legendary Nile Rodgers, CHIC have continually filled discos with such huge hits as 'Le Freak', 'Everybody Dance' and 'I Want Your Love'. This year sees the release of their new album 'It's About Time' which sees the return to the UK for an essential tour.
Rapper and songwriter Ms. Lauryn Hill is one of the leading lights of her generation. Celebrating two decades of her seminal album, The Miseducation of Lauryn Hill 20th Anniversary Tour takes her to Manchester, Birmingham and London with a newly added date at The SSE Arena at Wembley.
On Sale This Week
Following on from his time with The Czars, Michigan born musician John Grant has carried on to enjoy a varied solo career which has seen him tap into folk, alternative rock and even synthpop. With the release of new album 'Love Is Magic', he announces a tour for February 2019.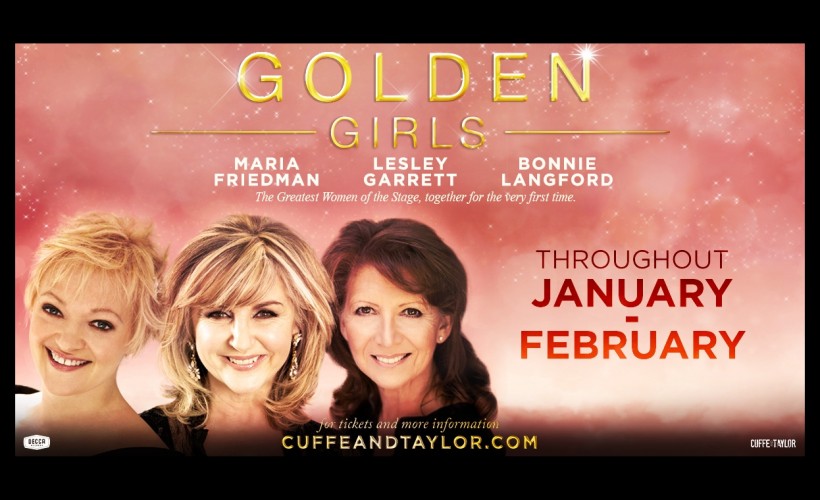 Maria Friedman, Lesley Garret & Bonnie Langford are the Golden Girls! The three star singers are here to bring you an extraordinary evening of entertainment which draws on their collective 130 years in showbusiness
Gigantic always has the hottest new tickets, but with the demand so high you need to be ready for their release. Set a personal reminder so we can text you or send an email to alert you just before your favourite act become available.
Plus, we have more awesome acts being added everyday. Take a look at what else is released this week:
WSTR // Orbital // Lowkey // Creeper // Only Girl // Big Tobz // Roni Size Reprazent // Yo La Tengo // Neneh Cherry // Raleigh Ritchie // Tubular Bells For Two // Charlotte Gainsbourg
Festivals

2Q Festival Lincoln unites the cities finest independent venues for a massive multi-staged extravaganza.

Infest is the epicentre for dark and exhilarating electronica, including some of the world's very best industrial, synthpop and darkwave acts.
Having just held yet another amazing day of music, Macmillan Fest is already looking to 2019 which no doubt will be yet another triumph!

The Leadmill plays host to Festivile; a huge alldayer featuring all your favourite alternative acts. Tickets are selling fast so book yours right now!
Don't Miss
Sheffield's finest metalcore band Bring Me The Horizon have just dropped their new single 'MANTRA' which is our first taste of their forthcoming record 'Amo'. They will be taking their new material on tour, playing headline sets at arenas in Birmingham, Leeds and Cardiff.

Crystal Palace Fireworks is a spectacular celebration of Guy Fawkes' gunpowder plot, attempting to blow up the Houses Of Parliament in 1605. So remember, remember the fifth of November and get yourself to Crystal Palace Park for an awe inspiring fireworks display!
No one is more passionate about music and getting you to the best gigs than Gigantic! We have a dedicated customer service team ready and waiting to help with your every enquiry to help you book for something amazing:
PVMNTS // Rudy Love & The Love Family // Tove Styrke // Jon Spencer // Norman Jay // The Wildhearts // Katherine Ryan: Glitter Room // Jurassic Kingdom // Fantastic Negrito // The Heliocentrics // London On Da Track // The ShowHawk Duo