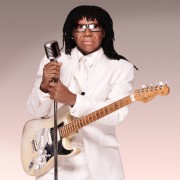 CHIC featuring Nile Rodgers Tickets
Considered one of the greatest live bands, CHIC's sound is undoubtedly defined by the rhythm guitar and musicianship of Nile Rodgers, resulting in s... Read moreome of the biggest dance singles of all time including 'Get Lucky', 'Let's Dance', 'Good Times', and Le Freak' (which was recently inducted into the 2015 Grammy Hall of Fame). Rodgers created the template for funk, dance and even hip hop and has collaborated with some of the world's biggest stars including Madonna, David Bowie and Duran Duran, and more recently Daft Punk - with whom he picked up three Grammy Awards in 2014, Pharrell Williams, Aviici and Disclosure.
Dates and Tickets for CHIC featuring Nile Rodgers
Sorry we currently have no dates available for CHIC featuring Nile Rodgers.
© 2016 Gigantic Tickets Limited. All rights reserved.