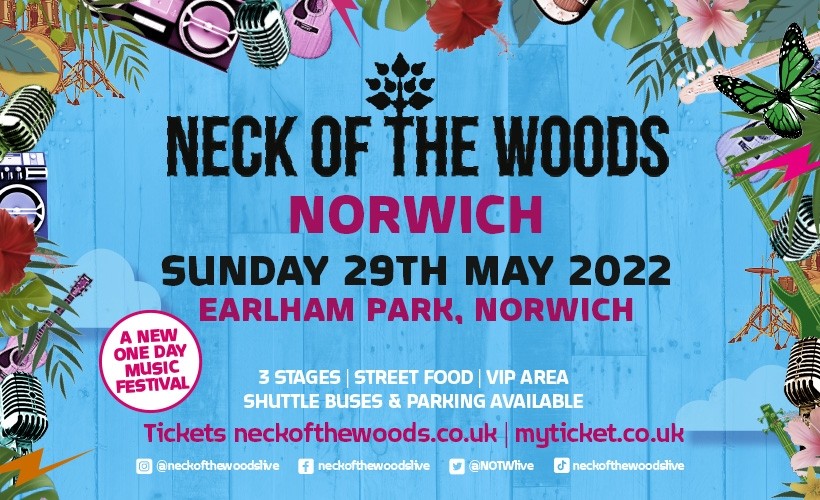 Brand new festival Neck Of The Woods his Norwich this summer, bringing with it a huge list of major names including headliners The Kooks, plus DMAs, Sea Girls, Dodie, YONAKA and many more. Get to Earlham Park to enjoy a huge weekend of awesome music.
Neck Of The Woods tickets are about to be released by Gigantic. Click the link below and set your personal event reminder.
📆 May 2022
29/05 Neck Of The Woods – Earlham Park, Norwich
TOP SELLERS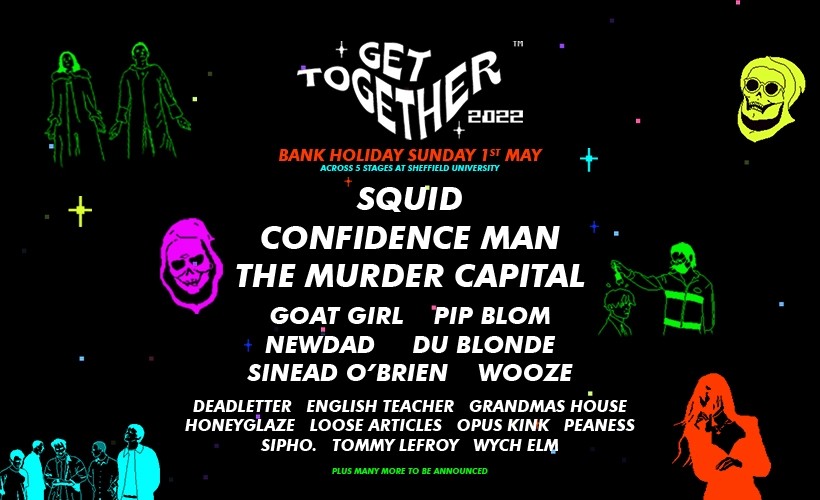 Returning for a triumphant second year, Sheffield based festival Get Together has grown to take over the best venues Sheffield has to offer and presents an impressive line-up of vital acts and rising stars including Squid, Confidence Man, The Murder Capital, Goat Girl – plus more!
📆 May 2022
01/05 Get Together – Various Venues in Sheffield
The defining sex bombs right across the decades; no-one can dispute the sheer animal magnetism of the world's most famous Welshman – Tom Jones. He now announces a major headline summer show for HERITAGE LIVE AT AUDLEY END 2022.
📆 June 2022
14/06 Tom Jones – Audley End, Essex
17/06 Stereophonics (Tom Jones support) – Principality Stadium, Cardiff
18/06 Stereophonics (Tom Jones support) – Principality Stadium, Cardiff
📆 July 2022
24/07 Tom Jones – Bitts Park, Carlisle
📆 August 2022
14/08 Tom Jones – HERITAGE LIVE AT AUDLEY END 2022
Retuning to the stage to prove once again why they are one of the biggest bands of all time; U.K. soul / pop legends Simply Red add an extra date at Alexandra Head, Cardiff due to tremendous popular demand.
📆 July 2022
21/07 Simply Red – Alexandra Head, Cardiff
FEATURED
Last year saw Texas release their critically acclaimed Top 10 album Hi. See them showcase their new music plus play classic hits from right across their career when they hit the road for their summer tour – tickets now on sale with Gigantic.
📆 June 2022
19/06 Texas – Delamere Forest, Northwich
📆 July 2022
03/07 Texas – The Big Top - Inverness Bught Park, Inverness
📆 August 2022
13/08 Texas – Stonor Park, Henley On Thames
19/08 Texas – Big Top - Under Canvas , Stirling
Massachusetts hard rockers Godsmack will be thrilling their fans when they bring the killer riffs and raging beats for an Autumn tour. Hit Gigantic on Friday to grab your tickets.
📆 October 2022
09/10 Godsmack – Academy, Manchester
11/10 Godsmack – Roundhouse, London
12/10 Godsmack – O2 Academy Birmingham, Birmingham