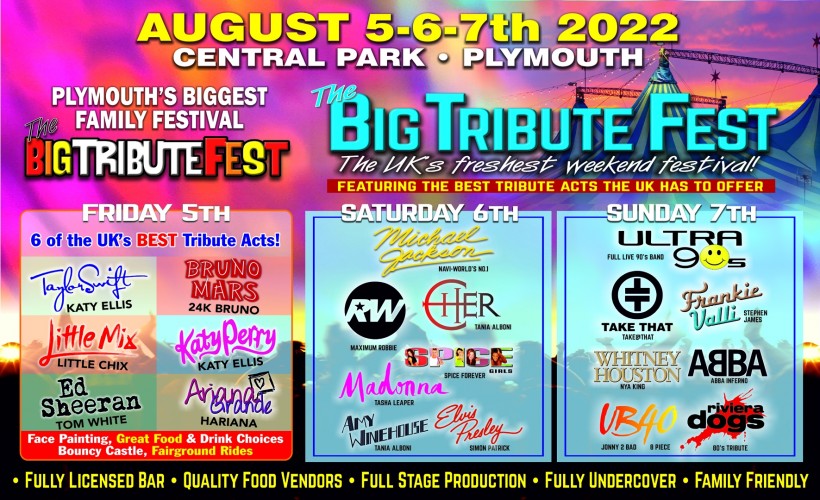 Even better than the real thing! The Big Tribute Fest offers a line up too good to be true, with Taylor Swift, Michael Jackson, Take That, Bruno Mars, Ed Sheeran, Spice Girls and Whitney Houston all making an appearance… or at least the best tribute versions of them are.
📅 August
05 – 07/08 The Big Tribute Fest – Plymouth Central Park, Plymouth
One of the biggest selling bands of all time; Simply Red fuse soul and pop as heard on the hit filled multi-platinum album Stars. This weekend sees Mick Hucknall and the gang play unmissable shows in Colchester and Hatfield.
📅 August
06/08 Simply Red – Castle Park, Colchester
07/08 Simply Red – Hatfield Park, Hatfield

Get to Leicester for two days of awesome alternative music, curtesy of essential festival Handmade. A guaranteed wicked weekender; Crows, Heavy Lungs, October Drift, Peaness and Wych Elm are just some of the cutting edge acts you will be enjoying.
📅 August
06 – 07/08 Handmade – Various Venues in Leicester, Leicester

Let's Rock Belfast! is the family friendly retro festival with a mega cast of pop superstars of the 80's. Look forward to seeing Adam Ant, Wet Wet Wet, Marc Almond, ABC and many more of your smash hit favourites.
📅 August
06/08 Let's Rock Belfast! – Ward Park, Bangor
Electronic pairing Jungle includes Tom McFarland and Josh Lloyd-Watson who dropped applauded third album Loving in Stereo last year which smashed high into the Top 10. Now, you can catch them at an extraordinary outdoor show at Millenium Square.
📅 August
04/08 Jungle – Millenium Square, Leeds