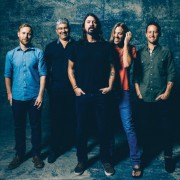 Foo Fighters Tickets
FOO FIGHTERS ANNOUNCE UK STADIUM TOUR

To coincide with the release of their 8th studio album Sonic Highways, which came out this week to critical a... Read morecclaim, Foo Fighters have announced a five-date UK stadium tour next summer, with tickets going on sale at 10am on November 21st.

The band will kick-off the tour at Sunderland's Stadium of Light, then heading on to Emirates Old Trafford in Manchester followed by London for a two-night run at Wembley Stadium - a venue the Foo Fighters have a strong affinity with after two record setting shows in 2008.

Final stop is Scotland to bring the curtain down on the tour with what will be a momentous show at Edinburgh's Murrayfield Stadium.

Sonic Highways was recorded in eight different musical capital cities of America, with the process and related experiences documented in an eight-part docuseries broadcast on BBC Four. The result is an amazing companion to the most ambitious Foo Fighters record to date--the same is sure to be said of this stadium tour in the year of the band's 20th anniversary.

Support comes from Iggy Pop (Wembley only) and Royal Blood (Wembley & Edinburgh only).
Monday 25 May Sunderland, Sunderland Stadium of Light
Wednesday 27 May Manchester, Emirates Old Trafford
Friday 19 June London, Wembley Stadium connected by EE
Saturday 20 June London, Wembley Stadium connected by EE
Tuesday 23 June Edinburgh, Murrayfield Stadium

Foo Fighters were founded by ex-Nirvana drummer Dave Grohl, who wrote and recorded the band's self-titled debut album in a cathartic attempt to come to terms with Nirvana frontman Kurt Cobain's suicide in 1994. Featuring the songs 'This is a Call', 'I'll Stick Around' and 'Big Me', the album, named 'Foo Fighters' to hide Grohl's identity, was recorded on cassettes and given to personal friends. It wasn't long before the tapes attracted label attention and the band expanded and signed to Capitol Records. Since the sad demise of Nirvana, Dave Grohl and co have gone on to release a further six studio records and have achieved rock legend status in their own right. Their seventh studio album, entitled 'Sonic Highways', is due out in November 2014.

As anyone who has ever been to Foo Fighters' concerts will know, this is a band that knows how to put on a good show. As a frontman, Grohl is charismatic, energetic and, quite often, hilarious. Well skilled at modulating the atmosphere of the crowd, the band can rouse fans with up-tempo classics such as 'All My Life' and 'Monkey Wrench' and then lull them with singalongs like 'Everlong'. The loud-quiet-loud arrangement of songs, such as 'Up in Arms' and 'These Days', means that, at times, the audience is both fired up and settled down during the course of the same song.

Whether you're a long-time fan or new to the Foos, if you get the chance to catch a Foo Fighters tour, you should take it. With 11 Grammy Awards, three BRIT Awards and four NME Awards under their belt and over 25 million records sold, these guys have proven themselves to be a hit with critics and fans alike.

And if Grohl receiving a 'Godlike Genius Award' from NME hasn't convinced you to check them out on the next Foo Fighters' UK tour, the band's songwriting prowess should. If you want to hear the latest Foos songs played live and see the band make old musical gems sparkle anew, get your Foo Fighters tickets here. If you enjoy exceptional music, you will not be disappointed.

Book your Foo Fighters tickets today on Gigantic.com!
Dates and Tickets for Foo Fighters
Sorry we currently have no dates available for Foo Fighters.
© 2015 Gigantic Tickets Limited. All rights reserved.