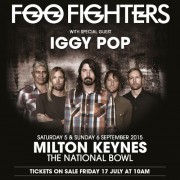 Foo Fighters Tickets
"You have always stood by our band, and we will always stand by you. Like I say at every show, we wouldn't be here if it weren't for you guys. And... Read more I mean that. I thank you from the bottom of my heart. And I will do everything I can to come back and give you a night to remember for the rest of your lives as soon as possible."

Dave Grohl made that promise after being forced on medical grounds to cancel dates due to the snap heard 'round the world "the fracture incurred in his June 12 fall from the stage in Gothenburg, Sweden"and Foo Fighters have wasted no time making good on it. The following dates have been confirmed and will be on sale to the public July 17 at 10am:

Saturday 5th September and Sunday 6th September at Milton Keynes Bowl with Special Guest Iggy Pop.

Dates and Tickets for Foo Fighters
Sorry we currently have no dates available for Foo Fighters.
© 2016 Gigantic Tickets Limited. All rights reserved.