25 years since the release of their world-conquering debut album, 3 Feet High And Rising, De La Soul return to the UK for a run of shows in honor of the classic album. Book your De La Soul tickets with Gigantic today.
Widely considered a hip-hop masterpiece, De La Soul's debut album, 3 Feet High And Rising, was hailed on its release as the future of the genre. A colourful burst of neo-psychedelic samples and playful wordplay plus the trio's trademark witty skits and lyrics, the album sounded like nothing else in hip-hop. True pioneers, De La Soul, eschewed the obvious influences of old-school rap or funk and spread their net wider, taking in pop, jazz, reggae and psychedelia.
Album of the Year on its release - a measure of 3 Feet High and Rising's cross-over appeal was the fact that it was voted Album of the Year by NME. De La Soul continue to garner awards, more recently in 2006, when they won a Grammy for their collaboration with Gorillaz on the single "Feel Good Inc".
Purchase your De La Soul tickets below.
---
Buy Tickets With Confidence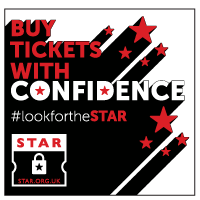 Gigantic are a primary ticket agent and full members of STAR (Secure Tickets from Authorised Retailers)
More info