Formed in 1998, Bullet for my Valentine are hugely popular in Europe, with a barrage of heavy metal songs that are anthemic in style and guaranteed to get any crowd roaring. This Welsh band started life covering Metallica and Nirvana tracks, but quickly developed their own repertoire of self-penned songs that delighted their hardcore fans. Once they had created their own unique identity rather than relying on covers, Bullet for my Valentine started to push into the festival and rock scene â€" to great reviews.
Now the band is back with a new tour of no fewer than 77 dates, and Bullet for my Valentine tour dates take them from the glamour of Brazil through to locations across the USA during July and August, before landing back in Ireland and the UK in October. UK fans will be able to catch them in Bournemouth on the 1st October, and then all over the UK throughout the autumn, cumulating at the Ipswich Corn Exchange on the 22nd October. The band then heads off for the European leg of their world tour. If you want to catch them while they're in the UK then we have a selection of Bullet for my Valentine concert tickets right here at Gigantic.
Through five albums, including their critically acclaimed debut 'The Poison' through to their latest offering 'Venom', Bullet for my Valentine have built up a solid and very loyal following. But while they may excel in the studio, it's live on stage where the band is happiest â€" a feat recognised by some prestigious awards including the Kerrang! award for Best Live Band in 2010, and the honour of headlining the Kerrang! 25th anniversary tour.
Musical integrity is key for these musicians, and they have been quoted as saying that they will not change their style, sound or image in order to appeal to a more 'commercial' audience. They describe themselves as "…a hard rock band with metal tones" and that's the way they and their fans like it. However, this doesn't make them inaccessible to curious onlookers and those just discovering the band for the first time. The best way to find out more about the band if you haven't already is to pick up some Bullet for my Valentine tickets from Gigantic and experience the band in their natural element â€" live and loud.
---
Buy Tickets With Confidence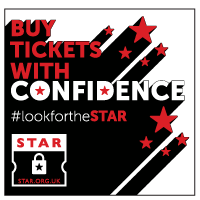 Gigantic are a primary ticket agent and full members of STAR (Secure Tickets from Authorised Retailers)
More info