The Wytches are fine purveyors of surf informed art rock. The band are emerging from cult heroes to soon become the next big thing. The psychedelic Peterborough band includes drummer Gianni Honey, guitarist Kristian Bell providing vocals with Daniel Rumsey on bass.
Bell and Honey had worked together previously in the band The Crooked Canes which split before the pair started university. Advertising on campus for a bassist, they were met by Rumsey who had previously fronted the bands Fall Victim and Dan Rumsey & The Bitter End. They began to forgo all else and throw everything into the band.
"
When I was at university in Brighton I had to choose between giving a presentation or playing a gig we were offered. I chose the band and consequently got kicked out. It also ended a relationship. In the more exhausting on-tour moments you question these big life decisions, but then I remind myself that all I've wanted since the age of eleven was to play music. I was gigging in my first band at thirteen, and ultimately chose actual songwriting over studying songwriting. It's still all I ever want to do.
" -
Kristian Bell
They began to get traction with the release of their debut single Beehive Queen, released through Hate Hate Hate Records, in 2013 followed by the cassette Thunder Lizard Revisited and the single Robe For Juda the same year.
The band signed to essential indie label Heavenly at the beginning of 2014. They recorded their debut album Annabel Dream Reader at Toe Rag Studios in Hackney, London, which was released in the Summer of 2015.
The Wytches are poised to release their highly anticipated second album All Your Happy Life. The record draws on hugely varied spheres on influence, drawing on the magnificient literature of Tolstoy, the acoustic beauty of Elliot Smith and the irrepressible energy of underground metal bands.
The Wytches tickets will soon become available. Set your very own reminder via text and email through Gigantic so you are ready for their release at 10:00 on Thursday 11th of August.
Touring in November, they will play at Wedgewood Rooms in Portsmouth, Bristol Thekla and Nottingham venue Rescue Rooms.
Gig tickets are always limited and everyone wants to see this amazing band so book early to avoid being disappointed.
---
Related News
Buy Tickets With Confidence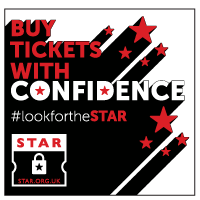 Gigantic are a primary ticket agent and full members of STAR (Secure Tickets from Authorised Retailers)
More info