The Wedding Present are known as purveyors of breathtakingly honest love songs. Their fast paced indie rock is clearly a progression from their post punk influences which would see them categorised as part of the C86 scene, much to their chagrin despite appearing on the infamous free NME cassette that ushered in the era.
Highly influential and deeply cherished by fans, they have produced eighteen UK Top 40 singles and nine studio albums, the latest of which is entitled Going, Going…
Join them for their tour this December which takes them to The Point at Sunderland, O2 Academy2 Liverpool, The Venue at Derby and O2 Academy Islington in London.
Recently announced, they will play at Sub 89 in Reading during March.
They have also announced festival dates including Gigantic Vol 4 at Manchester Academy on Saturday 27th of May and indie all dayer Down By The River at Norwich Waterfront on Sunday 28th of May.
Following later in the year, they also perform at classic album George Best in full at O2 Academy Newcastle, O2 Academy2 Birmingham, Rock City at Nottingham, Roundhouse in London and O2 Academy Bristol during June. Celebrating the seminal album's 30th anniversary, it will be the last time played live in full.
The Wedding Present tickets are on sale now. Book before they are gone!
The band was originally formed in 1985 in Leeds, Yorkshire, and called themselves The Wedding Present purposefully because it did not sound like an appropriate name for a band. Their leader David Lewis Gedge would soon take a National Express coach to London with a suitcase packed with 500 copies of their self-financed debut single Go Out And Get 'Em Boy!
They soon found a champion in the BBC Radio 1 DJ John Peel, known for his love of leftfield music, who invited them to make a live performance on one of his infamous sessions.
Their independent streak endured and they began working on their full length album before even being signed and eventually releasing it themselves without any label backing. Their first album George Best came out in 1987 and is considered by many critics to be the finest debut album of all time and dubbed "an unmitigated delight" by NME upon its release.
Despite being able to negotiate a contract on their own terms, they were accused by some of selling out when they signed to record label RCA. Their first release under the label was the 1989 album Bizarro which featured the single Kennedy which became the band's first Top 40 single. Ensuring the band was on a major label but not of one, 1991 album Seamonsters was recorded by engineer Steve Albini - the scourge of all commercial music.
The band also decided to sign with a major label for the release of 1994 album Watusi with Island Records. Continuing to avoid being sucked into a mainstream sound the record took a warm lofi pop approach. However their next album Saturnalia came out in 1996 through the independent label Cooking Vinyl.
The band would go on a lengthy hiatus in 1997 and would only return in 2004. Since then the band have released the three records Take Fountain in 2005, 2008's El Rey and 2012 release Valentina.
"
The boy Gedge has written some of the best love songs of the Rock 'n' Roll Era. You may dispute this, but I'm right and you're wrong!
" -
John Peel
Given their cult status, The Wedding Present concert tickets are in huge demand so book early or risk missing out. Gigantic always has the essential gig tickets you need so stick with us for the best experience.
---
Related News
Buy Tickets With Confidence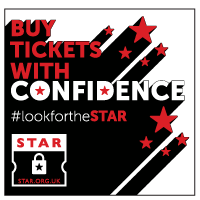 Gigantic are a primary ticket agent and full members of STAR (Secure Tickets from Authorised Retailers)
More info