Rejoice, for The Saw Doctors are back to perform once again. A band renowned for their amazing live performances, they declared in 2013 that they would not be touring with a high possibility that they would not be playing live again. So it is with great pleasure we announce their return to the stage.
The band formed during 1986 in the small city of Tuam, County Galway in the Republic Of Ireland.
"
Born into a repressed, catholic, conservative, small-town, agrarian, angst-ridden and showband infested society we're trying to preserve the positive elements of our background and marry them to the sounds which have culturally invaded our milieu through TV, radio, 45's, fast food restaurants, 24 hour petrol stations and electric blankets!
"
The band's career has seen them release fifteen studio albums and fine fame the world over.
They have succeeded in releasing 18 Top 30 Singles in their home country, three of which hit the top of charts as number 1's. Most notable is their single I Useta Lover which stayed top of the Irish charts for nine weeks consecutively in 1990. This broke all records in the country and they still hold the title for longest time at #1 till this day.
It comes as no surprise that the band received a Lifetime Achievement Award at the 2008 Meteor Ireland Music Awards.
The Saw Doctors tickets are on sale through Gigantic.
This winter sees the cult band play Nottingham Rock City on Tuesday 06th of December.
Concert tickets are available online but make sure you book early to avoid disappointment.
"
One of the Great Live Bands
" - Chris Evans, BBC Radio 2
"
The Saw Doctors are the very definition of the people's band.
" - Q Magazine
"
The band's formula can best be described as one part Creedence, one part Hootie, and one part Irish Historical Society
" - Rolling Stone Magazine
"
One of the world's most appealing roots rock outfits.
" - Washington Post
---
Related News
Buy Tickets With Confidence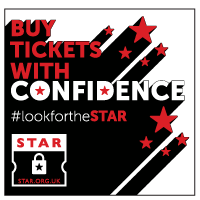 Gigantic are a primary ticket agent and full members of STAR (Secure Tickets from Authorised Retailers)
More info