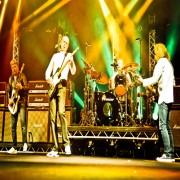 Status Quo Tickets
As one of Britain's most well-loved and long serving rock bands, it's no surprise that Status Quo tickets are still in high demand. After achieving ... Read moreonly moderate success with their first few albums, the band's crucial breakthrough into the mainstream music scene occurred in 1972 with the release of their fifth studio album 'Piledriver'. The record reached number five in the UK Album chart and marked a significant shift in style from pop-psychedelia to hard/rock boogie, which would become their trademark sound.

With help from their tour manager/ songwriting partner Bob Young, Quo penned a number of chart-topping singles throughout the 1970s, including 'Rockin all Over the World', 'Whatever You Want' and the number one single 'Down Down'. The British rockers continued their string of chart successes during the 1980s, most notably with the album 'In the Army Now', which featured a number two hit single of the same name.

To date, Quo have released an impressive 64 singles, 22 of which have been top 10 UK hits. Their greatest hits album 'Rockin' All Over the Years' sold in excess of 1.1 million copies across the UK and was awarded triple platinum status in 1990. To commemorate their services to the music industry, the group have received a number of reputable accolades, including Outstanding Contribution to Music at the 1991 Brit Awards. In 2010, Rossi and Parfitt were awarded an OBE in the New Year Honours for their musical achievements.

Since its formation, the band has undergone several line-up changes and today comprises original members Francis Rossi and Rick Parfitt on guitar and vocals, bassist John Edward, drummer Leon Cave and keyboard player Andrew Bown. They have played sell-out arenas across the UK, including their record-breaking four-show tour that took place during one day.

The legendary five-piece band continues to enthrall their loyal UK fan base with their electrifying Status Quo concerts. If you're lucky enough to bag tickets to catch them on their next Status Quo tour, you can expect foot-tapping guitar rhythms and a host of crowd-pleasing rock anthems, both new and old.

Tickets to the upcoming Status Quo UK tour are available below.

Dates and Tickets for Status Quo
Sorry we currently have no dates available for Status Quo.
© 2015 Gigantic Tickets Limited. All rights reserved.