Hello. Hello. Hello. Hello. Hello. Hello. Hahaha….
Public Image Ltd is a communications company that has nothing to do with rock and roll. Videos, Movies, Soundtracks for films. Sometimes they perform live gigs, depending on how they feel. However, they have released quite a few albums along the way. Ten so far!
Their creation announced the dawn of the new movement of post punk. Predominantly centred around music, the genre shed the nihilism of punk but continued to use the deconstructive energy to explore sonic experimentation that was presented through modernist aesthetics.
Expecting that the Sex Pistols would be the end of rock and roll, John Lydon was disappointed to discover that the farce continued following the bands implosion in 1978. Taking time out following all the fuss, Lydon spent time in Jamaica and America with Virgin Records boss Richard Branson to investigate his possible future in music.
Returning to the UK, Lydon contacted friend John Wardle AKA Jah Wobble with whom he had previously worked with musically. Initially the pair recruited John Gray and John Simon and started a band called The Gang Of Johns. A line-up change resulted in the creation of Public Image, adding Ltd some time later. They announced their arrival with the eponymously titled debut single Public Image which hit #9 in the charts.
The single appeared on their debut album Public Image: First Issue which came out in December of 1978. The record exhibited a development in Lydon's anti-establishment lyrics and bass heavy music that was heavily influenced by dub and reggae.
Ever inventive, their second album was entitled Metal Box and was packaged in a hard metal container imitating a film canister. The music pushed every more into the avant-garde with greater experimentation and stream of consciousness vocals.
PiL enjoyed greater commercial success with album Flowers Of Romance which hit #11 in the UK Album Charts. The sound continued to evolve with the times as they released new material up until the beginning of the Nineties when they fell into hiatus.
Locked into a terrible record contract, Lydon was unable to re-unite PiL and release new material unless he bought the contract out. He raised the funds through appearing in televised butter adverts and managed to regain the rights to his own work. Subsequently, the band reformed in 2009 and has started to once again perform live and two new albums including latest release; What The World Needs Now.
Public Image Ltd tickets will be available in limited supplies. Set a reminder through Gigantic to arrive via text or email so you are ready for their release at 09:00 on Thursday 18th of August. Or you could write it on the back of your hand.
They will take to the stage at Salisbury City Hall and The Assembly in Leamington Spa during November.
Book your PiL tickets early before they are gone.
---
Buy Tickets With Confidence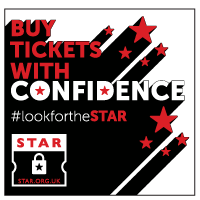 Gigantic are a primary ticket agent and full members of STAR (Secure Tickets from Authorised Retailers)
More info