NEW SHOWS
Fusing dance rhythms and R&B to create a wonderfully fresh sound, the incredible voice of Jess Glynne is the sound of true superstar in ascendence. Her hit singles 'I'll Be There', 'These Days', 'All I Am', 'Thursday' and 'One Touch' have made her a household name and each outstanding show is a marvel to witness.
Fans will be thrilled to hear she has just announced a massive tour for the summer of 2021 with exciting outdoor shows right across the country. The perfect Christmas present idea – but don't hang about as they will sell fast!
Every time Elton John has released a new song it has been a monumental occasion for pop music. And now, the announcement of his retirement is celebrated with the truly epic Farewell Yellow Brick Road tour.
An extra date at Utilita Arena Birmingham has been added due to colossal public demand!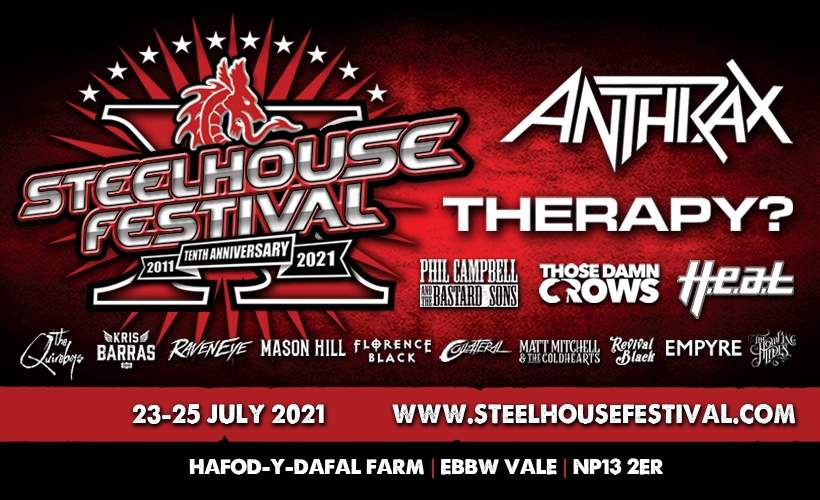 Enjoy the sound of hard rock? Then you will LOVE Steelhouse Festival! Hafod-Y-Dafal Farm in Ebbw Vale plays host to such mighty bands as Anthrax, Therapy? plus Those Damn Crows and many more for a summer weekend packed full of intense face melting riffs!
Gigantic is passionate about music and we proudly provide you with an ever-growing selection of tickets to the best gigs, exciting events and unmissable festivals. Make sure you don't miss the release of tickets for your favourite artist by setting a personal reminder with Gigantic that will alert you with an email or text message just prior to their release.
With even more being added to our unrivalled choice of tickets every single day, it makes sense to LIKE & FOLLOW Gigantic on Twitter, Instagram and Facebook to get the latest live music news. Also, make sure you SUBSCRIBE to our emails too!
Check out what other exciting events and shows are going on sale with Gigantic this week:
A1 \\ Michael Feinstein \\ Powerwolf \\ Karnivool \\ Arab Strap \\ KOKOROKO \\ Amenra \\ Oscar #Worldpeace \\ From Sorrow to Serenity \\ The Membranes
RESCHEDULED SHOWS
Gigantic is not the promoter for any shows, live events or festivals we sell for. Consequently, we are not responsible for the scheduling or any changes to the dates. We will endeavour to bring you the latest listings as soon as they have been announced. Please note, unless Gigantic has contacted you to say otherwise all events will be going ahead as originally billed.
We ask if you could please be patient and understanding as all changes to scheduling are being made for the benefit of your health and safety. When an organiser postpones an event or changes the date, we will immediately email you with all the pertinent information so please check both your inbox and spam folder regularly.
Our site is regularly being updated with the latest correct information. Please check our site regularly in addition to your emails to get the latest correct scheduling information. We also advise you to familiarise yourself with our Terms & Conditions.
Should you have already received tickets for the original date, please keep them safe as they will be valid for the new date and will not be replaced (unless you are specifically instructed by Gigantic via email otherwise). Gigantic is not able to replace them should they be lost or damaged.