Kill Your Television Festival - A celebration, an end and a beginning…
In July 1990 Kill Your Television shot straight to #1 in the Indie singles chart and sent Ned's Atomic Dustbin on a collision course with the pop charts.
Being their 'cross-over' single, Kill Your Television the song, the slogan, the t-shirt and the 'get off you're a*se and do something' sentiment still stand as the deepest footprint that the band have left on the indie rock planet and 25 years later the band are looking to cement the legacy with the launch of Kill Your Television Festival.
The inaugural KYTV Festival will be held at the band's spiritual home - Wolverhampton Civic Hall, scene of many of their end-of-year home-coming shows attended historically by audiences from across the globe; seekers of that magical atmosphere that only this venue evokes for the fans of Ned.
The band can confirm that they will be sharing the show with a considerable collection of bands which were part of that huge wave of indie in the 90s but they will not be telling us who these bands are yet - it will remain a secret for the time being… Jonn Penney, singer of Ned's Atomic Dustbin says "A host of very special guests, friends and contemporaries of some considerable note, are confirmed but are yet to be announced - we would tell you but then we'd have to kill you!"
This show will mark another beginning and arguably an end too as it seems highly likely that it will be the very last show to take place in the Civic Hall before it closes for a much-anticipated refurbishment. The refurbishment is likely to keep the room in silence for many months but also promises to re-open it with all of its existing bear-pit charm then some. A second balcony will allow many more eyes to beam down on that legendary stage so that artists and audiences alike will soak up the power of an intimate space filled to busting with a huge crowd.
Jonn says "There is no similar sized venue to equal the Civic right now, let alone the venue it will be when it re-opens so we're honoured to be shutting the place down in style - to be ending one amazing era and, at the same time, setting ourselves and the venue off into a whole new era!"
"We're hoping that KYTV Festival will establish itself. We'd like it to become a yearly indie event, a homage to the music of our roots. Unless Bob Dylan decides he wants to play Wolverhampton just before Christmas this year we'll be the last band to play the Civic as it is - the perfect goodbye and hello in one!"
Just what Bob Dylan has to do with all of this we have no clue…
---
Buy Tickets With Confidence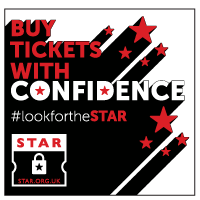 Gigantic are a primary ticket agent and full members of STAR (Secure Tickets from Authorised Retailers)
More info