The indie rock music of The Julie Ruin is a rallying cry for feminism with songs in direct opposition to sexual violence, objectification, inequality and patronisation. Drawing on lofi rock and roll with elements of electronica, Kathleen Hanna's signature valley girl voice and powerful lyrics have found a new vehicle to drive home her important messages.
They are currently comprised of Kathleen Hanna on vocals, drummer Carmine Covelli, Sara Landeau on guitar, Kenny Mellman on keyboard and former Bikini Kill bassist Kathi Wilcox.
The Julie Ruin originally started out as a solo project by activist and original riot grrl Kathleen Hanna following the break-up of the highly influential punk band Bikini Kill. Taking the name from feminist philosopher Julia Kristeva, Hanna proceeded to use a $40 drum machine to record tracks in her bedroom resulting in the album Julie Ruin released in 1998.
Ever creative, Hanna then formed the sample driven electroclash outfit Le Tigre which became her main focus until being forced to stop due to health reasons in 2005.
Drawing on elements of both Bikini Kill and Le Tigre, the New York band formed in 2010 using an adaptation of the name used from her previous solo project. Their debut album Run Fast was mixed by James Murphy, of LCD Soundsystem fame, and released in September 2013.
Their second album Hit Reset will be out in July of this year. The new album sees the band develop on their sound to draw on dance elements on some tracks and exploring darker moods in as typified by the tracks Hit Reset "
Deer hooves hanging on the wall, shell casings in the closet hall
" and Calverton "
Without you I might be numb, hiding in my apartment from everyone / Without you I'd take the fifth, or be on my death bed still full of wishes
".
The Julie Ruin tickets will go on sale Wednesday 25th of May at 10:00.
See the cult band play at KOKO in London and Gorilla in Manchester this December.
There will be limited amounts of concert tickets and given how popular The Julie Ruin are it is best to book early to avoid disappointment.
---
Related News

---

---
Buy Tickets With Confidence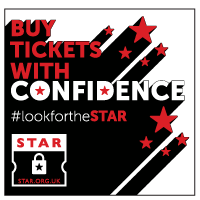 Gigantic are a primary ticket agent and full members of STAR (Secure Tickets from Authorised Retailers)
More info