Incredible Birmingham indie rock band Johnny Foreigner are so satisfyingly good. Taking lightening fast punk riffs and applying a bit of art rock treatment they create upbeat catchy tracks that cannot be ignored. The band includes drummer Junior Elvis Washington Laidley, guitarists Lewes Herriot and Alexei Berrow who takes lead vocals with Kelly Parker on bass. They make their return with the brand new album Mono No Aware.
Formed during the December of 2005 with the intention of being "
a country band with pretensions
", they set about writing and recording and quickly brought out their debut album WeLeftYouSleepingAndGoneNow before the year was through. The handmade album had only 40 copies pressed.
Arguably however, their true debut album was the 2008 record Waited Up 'til It Was Light. It was released through Best Before Records and included their popular singles Our Bipolar Friends and Eyes Wide Terrified.
They have continued to release a high quality output of excellent records, with their albums including Grace And The Bigger Picture released in 2009, 2011's offering Johnny Foreigner vs Everything and You Can Do Better which came out in 2014. Now they return with their sixth studio album entitled Mono No Aware.
"
I can say, we're happy with it. So happy. Beyond thunderdome. It has the colours we wanted, it sounds rough and produced in all the respective proper places, the symmetry works and the mountains of actual artwork fit perfectly.
" - Johnny Foreigner
Johnny Foreigner tickets are ready and waiting. Always get your gig tickets through Gigantic.
They play at The Maypole Café Bar & Theatre in Derby on Friday 14th of October. Be there!!
Concert tickets for this cult band are limited so make sure you book early to avoid being disappointed.
---
Related News
Buy Tickets With Confidence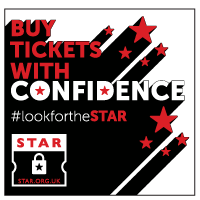 Gigantic are a primary ticket agent and full members of STAR (Secure Tickets from Authorised Retailers)
More info