Haelos is the new band taking the world by storm. Comprised of trio Arthur Delaney, Dom Goldsmith and Lotti Benardout. Their music is cinematic in scope, with a sound that feels like wide open exposed spaces. Dark and moody, cold and poignant, the music certainly has depth yet at no point feels unbareable. By examining the difficult places within themselves they somehow conjure an intimacy that allows them to express something unsettling which draws the listener in rather than repel their audience with melancholy.
"
I guess at the heart of it we are always trying to capture that feeling you get at 5AM
," says Delany, speaking of their music. "
Jamming with your friends after a night out, treading that fine line between darkness and euphoria, fear and love. That's the time that all our favourite music gets put on; it's where the beauty is at.
"
Full Circle is the name of their brand new debut album.
Released through Matador, the album sees the band develop their trip hop influences to become essential listening.
Be sure to see their spellbinding live performance now.
"
Our songwriting process can be uncomfortable and sometimes painful but we want to write evocative music that captures the spirit of what it means to be alive and human.
" -
Haelos
Your Haelos tickets are now on sale.
This summer sees them play some of the best music festivals. Including La Route du Rock Festival taking place in St Malo, Brittany, from Friday 12th of August until Sunday 14th.
They will also take part in Leeds and Reading Festival, running from Friday 26th until Sunday 28th of August.
Concert tickets are always limited. Make sure you book yours early to avoid disappointment.
See them make a headline performance at Heaven in London on Thursday 10th of November.
---
Related News

---

---
Buy Tickets With Confidence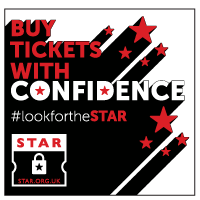 Gigantic are a primary ticket agent and full members of STAR (Secure Tickets from Authorised Retailers)
More info