If you're a Fun Lovin' Criminals fan then get ready for their essential upcoming tour. Starting in February 2017, those lovable New York rascals will be tearing up the stage at venues across England, including the O2 Academy Bristol, Cambridge Junction, London's Electric Brixton, legendary Nottingham gig venue Rock City and even Manchester Albert Hall. With demand expected to be high when the Criminals hit UK shores, dedicated fans should secure their Fun Lovin' Criminals tickets early by buying them from Gigantic.
Their debut album was entitled Come Find Yourself. When the album was first released in 1996 it was a landmark recording, and would set the tone for their subsequent career with its intoxicating fusion of rock, hip hop, rap, funk, blues and other genres.
"
Our debut album burned a path for crossing genres that we now take for granted.
"-
Huey Morgan
Those wise enough to snap up some gig tickets for these 'once in a lifetime' type Fun Lovin' Criminals tour dates will no doubt be treated to an experienced and matured band playing some of their biggest hits with the same vigour that they had back in the nineties. Look out for classic tracks like the pseudonymous Fun Lovin' Criminal, The Grave and the Constant, King of New York, and of course, the unforgettable Scooby Snacks with it's equally iconic Tarantino samples.
Continuing from their mid-nineties success, the goodfellas have gone on to create an untouchable catalogue of amazing criminal records and audio cocktails to tantalise fans throughout the years, including 1998's follow-up 100% Columbian, 2001's Loco, and Livin' in the City in 2005. With their gritty lyrics, urban themes and constant genre-fusing musical invention, the Criminals have proved that you don't have to be pigeon-holed in a box to be a global musical success.
Fun Lovin Criminals tickets will not last long so get 'em while we got 'em!
---
Related News

---

---
Buy Tickets With Confidence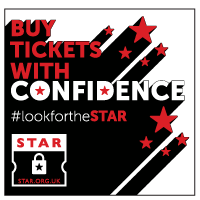 Gigantic are a primary ticket agent and full members of STAR (Secure Tickets from Authorised Retailers)
More info