Dinosaur Jr are one of the most significant rock bands ever and best typifies the music of Generation X.
With heavily distorted guitars backed up by massive Marshall amps, the band blended 70's rock with garage punk and in doing so pioneered the indie rock sound in the late eighties which came to become the template for nineties grunge in America and continue to be a massive influence on bands today.
The band was formed by J Mascis and Lou Barlow after the split of their hardcore band Deep Wound. Mascis had been listening to psychedelic bands such as Dream Syndicate which he introduced Barlow. The pair would take that sound and apply it to the heavier 70's rock that influenced them deeply. Inviting drummer Emmett Patrick Murphy, aka Murph, to join them, the band became Dinosaur.
Their debut album was eponymously titled Dinosaur and was recorded for only $500 in a home studio and released in 1985. The album was a kaleidoscope of influences with tracks exhibiting everything from country folk, garage rock and gothic metal. Producing only 1,500 copies the album could never be a commercial success and was largely ignored by the music press.
The band continued to gig and were spotted by Sonic Youth who were initially unimpressed by Dinosaur but found themselves won over after seeing them play again some months later and invited them to play support on their 1986 American tour.
Their second album You're Living All Over Me was recorded with Sonic Youth's engineer Wharton Tiers. The process saw tensions rise between Mascis and Murph over the drum parts. The band also faced further trouble upon the album's release with former band The Dinosaurs threatening to sue over the name prompting them to become Dinosaur Jr.
The band's breakthrough single Freak Scene featured on their album Blast First, both of which saw great success in the UK and paved the way for the band to sign to major label Sire Records with whom they released the album Green Mind. But tensions within the band became too much and Barlow was kicked out of the band. Murph left the band following the release of their album Where You Been. Mascis continued to work as the sole original band member on albums Without A Sound and Hand It Over.
The original line-up was to reunite in 2005, releasing albums Beyond, Farm and I Bet On Sky. They continue to play together.
Dinosaur Jr tickets will go on sale at 09:00 on Friday 27th of May.
See the absolutely amazing band play this November at O2 Forum in London and Albert Hall in Manchester.
Concert tickets are available online through the Gigantic website. Book early to avoid any disappointment.
---
Related News

---

---
Buy Tickets With Confidence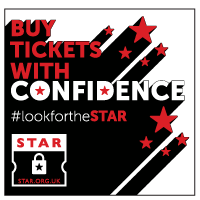 Gigantic are a primary ticket agent and full members of STAR (Secure Tickets from Authorised Retailers)
More info