One of the most outrageous bands of the extravagant eighties is back AND with their original line up! Culture Club are synonymous with the flair and wild creative passion from the decade and beyond. Now they are ready to return with their exciting upcoming album Tribes. Already enjoying feverish press attention, the upcoming record will be joined by tracks from such classic albums as Kissing To Be Clever and Colour By Numbers meaning you will enjoy the latest numbers plus your absolute favourite tracks from a band that have enjoyed rave reviews for their live performances over the years.
They have dominated the charts all over the globe with such classic hits as I'll Tumble 4 Ya, Do You Really Want To Hurt Me and Karma Chameleon. Ubiquitous, salacious and sensationalist, there isn't any part of the world that has not heard of megaband Culture Club. Not only have they changed planet Earth to become forever more glamorous, the Grammy Award winners have sold well over 100 million singles and over 50 million albums.
Having earned seven straight Top 10 hits in the UK, earned nine Top 10 singles in the USA and enjoyed nine Top 20 singles in Australia, they have cemented their place in pop history after they became #1 in the singles charts over a dozen different countries, have international multiplatinum album sales and were the very first group since The Beatles to have three Top Ten single hits from their debut album - plus are the only ever act to have a Diamond certified.
Led by the iconic Boy George, see guitarist and keyboard player Roy Hay, drummer Jon Moss and bassist Mikey Craig once again reunite for a truly spectacular night at SSE Arena - Wembley, London on Wednesday 14th of December. Book your Culture Club tickets today!
These concert tickets are not expected to last for very long so don't delay and book yours today. And remember, for the best experience get your gig tickets through Gigantic.
---
Related News
Buy Tickets With Confidence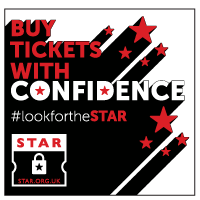 Gigantic are a primary ticket agent and full members of STAR (Secure Tickets from Authorised Retailers)
More info