Here's something that will addle your brain - a funk/Led Zeppelin fusion. There are not many bands that could pull that kind of merging of two seemingly disparate genres, but Clutch (formerly known as Glut Trip) manage to pull it off. And just to really mix things up, their vocals have been compared to Faith No More, adding a metal seasoning to a main dish of pounding guitars, complex and multi-layered tunes and some seriously funky bass. Clutch are bigger in the US than they are over here in the UK, but that could be about to change with their latest Clutch tour dates lined up.
The band are playing just a few gigs in the UK this year, and fortunately at Gigantic we have a selection of Clutch concert tickets on offer. They kick things off at London Roundhouse on Thursday 15th of December before bringing the house down at the Manchester Academy on Sunday 18th of December. With so few gigs on offer this year, Clutch tickets are going to go fast, so if you're already a fan or are simply enthralled to know what on earth funk/Led Zep fusion really sounds like, you'll need to act fast.
Formed in 1991, Clutch did their apprenticeship playing local gigs in their adopted home of Frederick, Maryland (they're originally from just down the interstate at Germantown). Like all young bands, they spent a couple of years playing the local clubs, releasing EPs and building up a following before finally being signed by EastWest Records after an A&R man heard their single 'Passive Restraints'. In 1993 they released their debut album 'Transnational Speedway League'. In 1998 they jumped ship to sign for Columbia Records, which gave them greater exposure nationwide. They have now released a total of eleven studio albums including their latest release Psychic Warfare which came out through their very own Weathermaker Music label.
They're equally at home in the studio as they are on stage, and have released an impressive back catalogue of albums, EPs and rarities that are highly sought after by collectors. But for any music fan it's how a band performs live that counts, and Clutch show just why a band should serve that initial apprenticeship before launching a career. They're incredibly tight on stage, and the production values are slick and well orchestrated. Interaction with the crowd is good, giving fans an experience, not just a 'night out with a band on in the background'. Find out for yourself by grabbing Clutch concert tickets from Gigantic now.
---
Buy Tickets With Confidence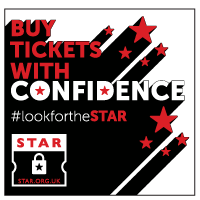 Gigantic are a primary ticket agent and full members of STAR (Secure Tickets from Authorised Retailers)
More info