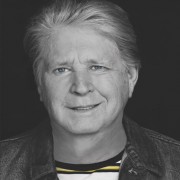 Brian Wilson Tickets
Brian Wilson announces UK arena tour with America & Edwyn Collins for September 2015

Legendary performer, founding member of The Beach Boys and on... Read moree of the world's most revered figures within popular music, Brian Wilson has announced that he will be touring arenas across the UK this September. Already receiving praise for his upcoming 'No Pier Pressure' album out on April 6th, Brian will be bringing the sound of California to British shores for a limited run of shows and will be bringing classic rockers America and Scottish indie innovator Edwyn Collins with him to arenas in the UK.

For the eight UK shows Brian will be joined by fellow Beach Boys Al Jardine and Blondie Chaplin. Also on the bill are Classic Rock favourites, America. Marking their 45th anniversary after meeting at high school in London in the 1960s and going on to become a household name with hits like their #1 single 'A Horse With No Name' and 'I Need You'. The individual band member's composite sound of melodic pop rock and elements of folk, jazz and Latin inspired rhythms and image fuelled lyricism would go beyond their biggest hits and earn them a huge loyal following and six certified gold and/or platinum albums. Also on the tour will be Edwyn Collins, one of the indie genre's founding musicians and an ingenious songwriter, much like Brian himself. Edwyn was founding a member of the punk-funk hybrid band Orange Juice, who rose to prominence in the 80s before he embarked on a solo career. Honing this new sound Edwyn went on to have a worldwide smash with 1995 hit 'A Girl Like You', and after another decade and recovery from serious illness Edwyn became recognized as a great musician with the Ivor Novello Inspiration Award.

Get your tickets for Brian Wilson through Gigantic below!

Dates and Tickets for Brian Wilson
© 2015 Gigantic Tickets Limited. All rights reserved.