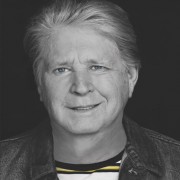 Brian Wilson Tickets
The Beach Boys were the sound that summed up the Sixties surfing lifestyle, and at the heart of that sound was Brian Wilson. More than two dozen of th... Read moree band's greatest hits were either written or co-written by Wilson, and he was a driving influence in helping to create the band's unique sound.

But Brian Wilson is also a major solo artist in his own right, with a clutch of albums under his belt including his latest album, 'No Pier Pressure' released this year. To introduce the album to his loyal fan base, Brian Wilson tour dates have been announced, and fortunately for UK fans you can get Brian Wilson concert tickets right here at Gigantic.

Wilson is playing a total of eight dates in the UK this year, starting off with the Echo Arena in Liverpool on the 18th September, before moving on to Cardiff on the 19th, London O2 Arena on the 20th and Birmingham on the 22nd. The UK leg of his tour finishes at the SSE Hydro in Glasgow on the 27th September.

Despite a period of personal problems throughout the 1970s and '80s, Wilson rediscovered his muse in the 1990s. His creative output accelerated at a remarkable pace, starting with a collaborative album 'Orange Crate Art' with mid-'60s partner Van Dyke Parks featuring Parks' songwriting and Wilson's vocals. The project put Wilson back in the public eye once again, and since then he has been a prolific writer and performer, amassing a total of 11 solo albums, cumulating with the 2015 release of 'No Pier Pressure'.

The use of 'God Only Knows' as the Children In Need single last year introduced Wilson to a whole new generation of potential fans, and downloads of both the Beach Boys albums and Wilson's solo work has increased as a result of the exposure.

In a few words it's impossible to go into real detail or to elaborate the true value and importance of Wilson as an influence on modern music. Inaugurated into the Rock and Roll Hall of Fame, described by Paul McCartney as "one of the great American geniuses" and still winning Grammy after Grammy for his work, Wilson is a seminal artist. If you want to see the man in person then grab one of the remaining Brian Wilson tickets while they're still available, as this tour will be a guaranteed sell-out.

Dates and Tickets for Brian Wilson
Sorry we currently have no dates available for Brian Wilson.
© 2015 Gigantic Tickets Limited. All rights reserved.