Yasiin Bey has undergone various name changes including his important work under the name Mos Def. The massively prolific rapper has been instrumental is pushing forward the progress of Hip Hop through his fantastic body of work. He is expected to release a new album of material later in the month.
Dante Terrell Smith was born into the Brooklyn neighbourhood of New York. He showed early promise as an actor and appeared in the TV series You Take The Kids which saw him temporarily relocate to Los Angeles. He returned to NYC right at the start of the cities Crack Cocaine epidemic and witnessed the terrible rise in crime and violence first hand.
He began to become involved in rap in 1994 when he formed UTD (Urban Thermo Dynamics) with his brother Ilias Bey aka DCQ and his sister Ces. Their work was retrospectively released in 2004 with a compilation of their previously unheard work.
By 1996 he began working under the name Mos Def, assisting De La Soul and Da Bush Babees before releasing his debut single Universal Magnetic. He formed the rap group Black Star and in 1998 released his debut album; Mos Def & Talib Kweli Are Black Star.
His prolific output saw the release of the albums Black On Both Sides (1999), Manifest Danger (2004), The New Danger (2004), True Magic (2006) and The Ecstatic (2009). A new album is expected later this year.
Yasiin Bey tickets can now be yours. Book them through Gigantic today!
These gig tickets will be very limited and highly sought so please book early or risk missing out.
---
Buy Tickets With Confidence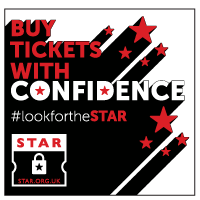 Gigantic are a primary ticket agent and full members of STAR (Secure Tickets from Authorised Retailers)
More info