After announcing the release of their new studio album set in the fall of 2013, Dutch Symphonic Rock band Within Temptation is now unveiling the first tour dates of their worldwide album tour, starting off in January 2014.
Within Temptation will visit Birmingham, London, Manchester, Glasgow and Newcastle as part of the 17 show European leg.
Tickets are on-sale from 10am on Friday 1st March
Two years after releasing their latest album "The Unforgiving" touring the world and celebrating their 15-years-anniversary with the exclusive "Elements" show, the band around front woman Sharon den Adel recently announced to be working on a new album which is due to be released in fall 2013.
In January and February 2014, Within Temptation will hit the stage with a complete new spectacular show. "We are looking forward to sharing where the writing process has taken us. We are excited about performing these new songs live! We hope to announce more dates soon", says den Adel.
Show Less
Goth metal stars Within Temptation marry the guitar-driven force of hard rock with the sweep and grandeur of symphonic music, and the results have made them one of the most popular bands ever in the Netherlands. Within Temptation were formed in 1996 by guitarist Robert Westerholt and vocalist Sharon den Adel, who are partners on stage and off. Within Temptation's early material caught the attention of the Dutch label DSFA, which signed the group to a record deal; the band's first album, Enter, was released in 1997. Up until this time, Within Temptation had been a studio project, but the success of the album led to invitations to play several live shows, including the Dynamo Music Festival, one of the biggest live music events in the Netherlands. Within Temptation demonstrated their strength as a concert act, and began playing Germany, Austria, Belgium, and the Czech Republic. Booked to play Dynamo's main stage in 1998, Within Temptation felt recording new material was in order, and they released the Dance EP for the occasion. Shortly afterwards, Within Temptation went on hiatus as the group's members dealt with personal commitments and Westerholt and den Adel built a studio for their ambitious recording projects.
In late 2000, Within Temptation returned with their second full-length album (and first for Sony), Mother Earth, and the band continued to appear at major music festivals in Europe and the Netherlands; the album was a major commercial success, and the song "Ice Queen" was released as a single, rising to number two on the Dutch charts. After several years of steady touring (including major festival appearances in France and Mexico), Within Temptation returned to the studio to record their third album, 2004's The Silent Force, an ambitious project featuring a full orchestra and 80-voice choir accompanying the band. It was their first disc to be released simultaneously in the Netherlands and elsewhere in Europe, and became a major commercial success, going platinum at home and reaching the Top Ten in Germany, Belgium, Spain, and Finland. Having become the Netherlands' best-selling international act, Within Temptation finally landed an American record deal with the venerable metal imprint Roadrunner, which released their fourth album, The Heart of Everything, in 2007. Black Symphony, a live CD/DVD recorded at the Ahoy Arena in Rotterdam with a full choir and orchestra, followed in 2008. Their 2011 effort The Unforgiving was a concept album, supported by a series of short films plus a comic book written by Steven O'Connell. ~ Mark Deming, Rovi
Within Temptation tickets are on sale now
---
Buy Tickets With Confidence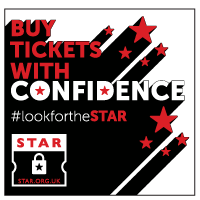 Gigantic are a primary ticket agent and full members of STAR (Secure Tickets from Authorised Retailers)
More info