People of the United Kingdom- your decimation is imminent.
NYC's Tragedy embark on a UK tour in support of their fourth studio album, #1 Party Band.
Tragedy has changed the face of music forever. This band of flamboyant men dressed in spandex, leather and sequins, takes your favorite Bee Gees, disco and soft-rock classics and reinvents them in a Heavy Metal fashion. The result is aural ecstasy. You may enter the Tragedy experience unaware of your latent appreciation for gooey soft rock or flamboyant metal, but you shall emerge forever humbled by the greatness of Tragedy, covered in glitter and with a smile that will last for days.
Tragedy has sold out venues like Bowery Ballroom, Brooklyn Bowl and Terminal 5 in their hometown of NYC, as well as those in far-away lands such as London, Glasgow, Disneyland, Austin, Boston, DC, Tampa. Festivals include Guilfest (UK, with Motorhead), Summer Breeze (Germany, headlining), Bloodstock (UK, headlining) and Hammerfest (UK, headlining). The band has appeared on VH1 Classic's That Metal Show, Bruce Dickinson's Rock Show and has received international airplay. Tragedy has released three critically acclaimed albums: We Rock Sweet Balls and Can Do No Wrong, Humbled By Our Greatness, Death to False Disco-Metal. Their fourth, #1 Party Band, is to be released in early 2015.
"Exploding on stage in a riot of spandex, leather, sequins and stunning facial hair, the Tragedy experience emphasizes fun and frolics, but it quickly becomes apparent that it's not at the expense of the music. And that's the kicker. You may not have them on your iPod, but there's simply no denying the quality of these songs, metal makeover or not. Night Fever and Stayin' Alive by the Bee Gees, We Are Family by Sister Sledge becomes We Are Tragedy, Slayer's Raining Blood morphs into The Weather Girls' Raining Men... even Abba get a look in with a sly-winking rendition of Gimme! Gimme! Gimme! (A Man After Midnight). As they close out with Bonnie Tyler's Total Eclipse Of The Heart (penned by Meat Loaf collaborator Jim Steinman let's not forget), the words of Maximus in Gladiator spring to mind; "Are you not entertained?" Camp as a row of tents and with more hooks than hell's cloakroom, Tragedy guarantee it."
- Metal Hammer
"Tragedy manage to dwell in the realm of novelty while far exceeding their worth as a concept . . . the aesthetic is somewhere in between the flamboyance of the disco-era Bee Gees and the flamboyance of mid-eighties hair metal, with some extra flamboyance thrown in for the sake of flamboyance."
- Tiny Mix Tapes
"Hard riffs, tight white flares, and even tighter octave-scraping harmonies...essential listening."
- The Sun, UK
"Everyone from Feist to Tom Jones has covered the disco hits of the Bee Gees, but perhaps no one does those gooey soft-rock numbers better than Tragedy...Shiny costumes, dramatic eye makeup and headbanging hilarity..."
- Village Voice
"The greatest heavy-metal-meets-disco party you could possibly wish for."
- Metal Rules
"Back in the dark days of disco, the Bee Gees were the shit, despite having massive teeth, bigger hair and a falsetto only dogs could hear...with the righteous power of heavy metal, We Rock Sweet Balls and Can Do No Wrong mixes Guns 'N' Roses swagger, the Scorpions' sense of pomp and Judas Priest-esque vocals to create a sound that is exactly like The Darkness!"
- Kerrang
---
Buy Tickets With Confidence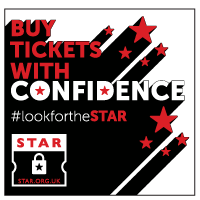 Gigantic are a primary ticket agent and full members of STAR (Secure Tickets from Authorised Retailers)
More info