The innovative and pioneering band The Orb may have been around since the very early days of dance music, but they're still wowing the crowds with a series of gigs across the UK this year. The Orb invented the 'Ambient House' sound with a complex fusion of electronica, and today their sound is still as fresh and original as it was back in the 1980s. If you're an Orb fan, or are curious to find out what pure, unadulterated Ambient House should sound like, then fortunately The Orb concert tickets are now available from Gigantic.
The Orb have a huge following, and because of the limited number of dates we anticipate that demand for The Orb tickets is going to be very high. If you want to turn back the years to when Dance music was king, or if you're a second-generation lover of Electronica then grab your tickets before they sell out.
Drawing their inspiration from the great Brian Eno and '70's experimental outfit Tangerine Dream, The Orb set out in 1988 to offer a more chilled out, relaxing alternative to the break-beat dance of the all-night Rave scene. This was music to listen to after a long night of intense dancing - silky-smooth tunes that fused Electronica and Dub into a seamless, flowing and remarkably complex sound. Their 1992 album U.F.Orb hit the number one chart spot, propelling Ambient into the wider public audience. It was an instant hit, and Alex Paterson and KLF member Jimmy Cauty became overnight sensations.
The Rave scene moved on through the years, but The Orb were always there in the background, producing intense and haunting tracks that appealed to all of those who were there at the beginning of the Rave culture. A steady succession of releases from that seminal U.F.Orb album of 1992 through to the most recent 2015 'Moonbuilding 2703AD' show that the band is still as innovative, fresh and original today as they were nearly thirty years ago. If you want to take a trip down Ambient Dub memory lane, or if you're just discovering the joys of this complex and elegant genre, then get ready!
The Orb tickets will soon become available. Be sure to set your very own personal reminder through Gigantic to come to you via text or email for when their gig tickets are released at 09:00 on Friday 12th of December.
Their Autumn/Winter tour takes them to cool Sheffield venue Plug and SWG3 (Studio Warehouse Glasgow) in November. Then, in December, they push on to Norwich Waterfront, Concorde 2 in vibrant Brighton, cool Nottingham club Rescue Rooms, Tramshed at Cardiff and The Marble Factory in the cultural epicentre of Bristol.
Their concert tickets are limited so you really need to book early or run the risk of being disappointed.
---
Buy Tickets With Confidence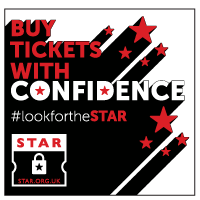 Gigantic are a primary ticket agent and full members of STAR (Secure Tickets from Authorised Retailers)
More info