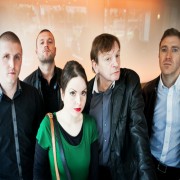 The Fall Tickets
Legendary post-punk band from Greater Manchester, UK.
The Fall are, or at least have been, the best band in the world. Formed in late 1976 or early ... Read more1977, they've released around 50 singles, 25 studio albums, and well over 50 live and compilation albums (although it seems like more). In August 2004 they recorded their 24th John Peel Session.

The band has gone through numerous personnel changes over the years ( there have been well over 30 different line-ups so far), and since July 2007 consists of New Musical Express Godlike Genius Award for Services to Music winner Mark E. Smith, Pete Greenway on guitar, Dave "The Eagle" Spurr on bass, Elenor Smith on keyboards, and Keiron Melling on drums.

Dates and Tickets for The Fall
Sorry we currently have no dates available for The Fall.
© 2016 Gigantic Tickets Limited. All rights reserved.