As lead singer of the most important post punk band off all time; Mark E. Smith said of his band - "
If it's me and yer granny on bongos, then it's The Fall
" Taking his Bukowskian lifestyle and channelling it into music, The Fall sound is typified by long repetitive rhythms of a tense nature reflecting the industrial decay which gives a vehicle for Smith's snarled lyrics that unravel society through a deranged stream of consciousness. Their unrivalled prolificism has seen them release a startling thirty studio albums in their thirty seven year career.
The band, for the moment, includes drummer Keiron Melling, virulent vocalist Mark E. Smith, Pete Greenway playing guitar and Dave Spurr on bass.
The Fall tickets are now available with more to be released soon. Book yours before they are gone.
The Fall will also join the superb line up for amazing alternative festival CLUB.THE.MAMMOTH taking place in London and Liverpool. Be at Arts Club in Liverpool where other acts include Hookworms, Kagoule, Tigercub and more on Saturday 21st of January. Then come to O2 Forum in London on Saturday 28th of January where they will be joined at the all dayer by Future Of The Left, Hookworms and more.
Other January dates include the Engine Rooms at Southampton and vibrant Brighton where they will headline at Concorde 2 plus The Assembly at Leamington Spa and Cardiff's Tramshed in February. Plus, Fiddlers at Bristol in March.
The Fall will join Swans as support when they play at Victoria Warehouse in Manchester on Sunday 28th of May.
Formed in Manchester after being inspired by the infamous Sex Pistols gig at lesser Free Trade Hall, the band stole the name from the Camus novel and began shredding literature into their frenzied music. By 1977 they were gigging at the same time the first wave punks were releasing their debut albums out of London and were soon managed by Richard Boon who also had Buzzcocks in his roster who helped them release their first EP and singles.
By the end of the year the band were already beginning their trend for constant changes in membership, initially due to Kay Carroll taking over the role of management and becoming a some-time singer which put other members noises out of joint. Their debut album Live At The Witch Trials came out in 1979 and was soon followed by second album Dragnet only eight months later. Both were met by applause from the critics and kicked off the second trend of which the band is famed for an exhaustive release of records.
Given their cult status, The Fall concert tickets are extremely limited so book early or risk missing out. Always make Gigantic your first choice for a great experience in getting your essential gig tickets.
---
Related News
Buy Tickets With Confidence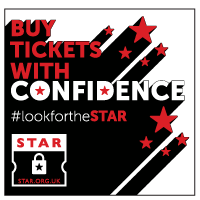 Gigantic are a primary ticket agent and full members of STAR (Secure Tickets from Authorised Retailers)
More info