Slade are one of the most outrageous British bands that has ever existed. With their taste for the flamboyant and a knack for writing perfect catchy rock and roll songs they have become one of the world's best loved bands. They have produced a whopping twenty three Top 20 singles, six of which were #1 smash hits, plus they have released six massive albums. Having rocked the charts for many decades the band have etched their name onto the wall of rock and roll and earned their place in history with songs like Cum On Feel The Noize, Coz I Luv You and the song that defines that special time of year Merry Xmas Everybody, which has sold well over one million copies.
Their current roster includes founding members Dave Hill and Don Powell who are joined with John Berry and Mal McNulty.
The band first began touring way back in 1966 playing around the clubs and pubs found all over Europe. In the seventies they became the ultimate glam rock band and have been world famous ever since.
Their other stellar singles include Skweeze Me Pleeze Me, Take Me Bak 'Ome, Lock Up Your Daughters and Mama We'er All Crazee Now.
Slade tickets are already on sale so book yours now through Gigantic - the right place for your gig tickets!
See them perform with Mud II at the Apex in Bury St Edmunds on Saturday 29th of October.
It's Christmas!!!!!!
And what better way to celebrate than to go see Slade sing Merry Xmas Everybody live? Well here's your chance as the glam rockers are ready to shake your baubles when they tour in December. They will be stopping at Waterfront in Norwich, The Robin in Wolverhampton, William Ashton Hall in Wrexham, Cambridge Junction and Concorde 2 at Brighton.
Concert tickets are always limited so make sure you book early to avoid any disappointments.
---
Buy Tickets With Confidence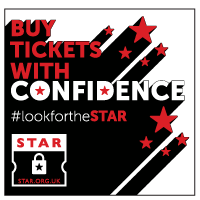 Gigantic are a primary ticket agent and full members of STAR (Secure Tickets from Authorised Retailers)
More info