Escape to the Kent seaside and discover Dreamland – the delightful family amusement park packed full of good vibes and festival fun. First opened in Margate during the 1870's, Dreamland is one of the oldest surviving British amusement parks, instantly recognisable by the iconic art deco building as featured in Sam Mendes' remarkable romantic drama Empire Of Light and is also the picture-perfect setting for outdoor music events having seen both Gorillaz and Noel Gallagher's High Flying Birds play headline shows there in recent years.
It's going to be a massive summer with even more stars shining on stage. The coming months see performances from such world-class acts as Queens Of The Stone Age, Two Door Cinema Club, Will Young, The Human League plus many more!
Tickets are on sale with Gigantic – CLICK HERE to book right now and keep scrolling to see many more great events arriving at Dreamland.
Queens Of The Stone Age are back! And with rumours of an eighth album dropping this summer abound, fans will want to grab their tickets now. Support comes from rising stars Coach Party.
📆 June
22/06 Queens Of The Stone Age – Dreamland, Margate
Pop idol winner Will Young celebrates 20 Years Of Hits, playing all the huge anthems and ballads that made him a household name.
📆 June
23/06 Will Young – Dreamland, Margate
Pop rock boy band McFly take brand new album Power to Play on the road this summer. Don't miss out and book early!
📆 July
07/07 McFly – Dreamland, Margate
Synth-pop legends The Human League are supported by the mighty Marc Almond for a night of superb 80's smash hits.
📆 July
21/07 The Human League – Dreamland, Margate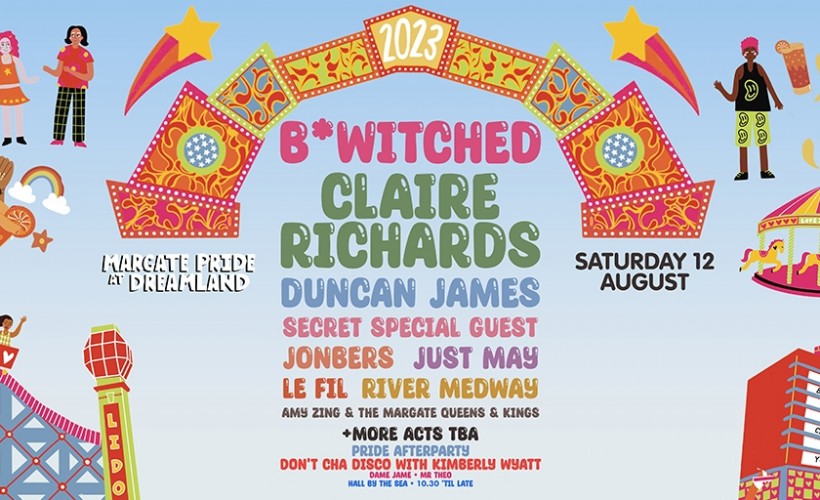 B*Witched, Claire Richards and Duncan James all join in the celebration for the LGBTQIA+ community at Margate Pride.
📆 August
12/08 Margate Pride – Dreamland, Margate
UB40 Featuring Ali Campbell play all your favourite pop / reggae hit singles in September.
📆 September
30/09 UB40 Featuring Ali Campbell – Dreamland, Margate
See Clearwater Creedence Revival at Dreamland as part of their 40th Anniversary tour – tickets on sale with Gigantic now!
📆 March
23/03 Clearwater Creedence Revival – Dreamland, Margate
From The Jam take their All The Mod Cons 45th Anniversary tour to Margate! They are supported by special guests Purple Hearts.
📆 May
11/05 Clean Bandit – Dreamland, Margate
Bristolian experimental electronica three piece Kosheen will get revellers raving when they hit Dreamland in November!
📆 November
18/11 Kosheen – Dreamland, Margate
Northern Irish indie champions Two Door Cinema Club are famed for such huge hit anthems as "What You Know", "Undercover Martyn" and "Something Good Can Work".
📆 September
09/09 Two Door Cinema Club – Dreamland, Margate
Brilliantly bizarre psyche rock instrumentalists Ozric Tentacles join forces with space rockers Gong for The Last Blast! tour.
📆 March
14/03 Ozric Tentacles – Dreamland, Margate