Gigantic Tickets is passionate about music, and we are very excited to be able to bring you the hottest tickets for the most exciting shows and festivals. Keep scrolling to check out the week's biggest releases – click the links and set your event reminders right now!
ARE YOU READY TO ROCK? 🤘🏾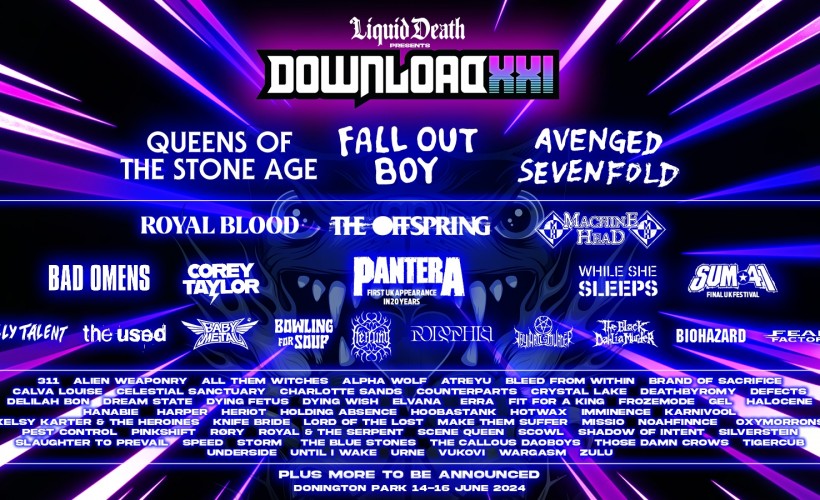 If you like hard and heavy music you are going to LOVE the Liquid Death presents Download Festival line-up for 2024! Stoner rock giants Queens of the Stone Age, pop punk titans Fall Out Boy and heavy metal monsters Avenged Sevenfold preside over a mammoth roster featuring the very best in thrash, classic rock, emo, hardcore punk, and nu-metal.
Look forward to blistering appearances from the likes of Royal Blood, The Offspring, Machine Head, Corey Taylor, Pantera, BABYMETAL, and many more of your rock heroes. There's going to be non-stop mosh pit action and furious guitar riffs aplenty when you book your spot at Donington Park with Gigantic – tickets released on Friday morning!
📆 Event Dates:
Liquid Death presents Download Festival tickets are released at 09:00 on Friday 10th November.
Feel the summer vibes with TS5
The undisputed master of UK garage, singer/rapper Craig David has achieved platinum sales and received a staggering fourteen BRIT Awards.
Craig David Presents TS5 sees the superstar bring out all the best old-school tracks and poolside Ibiza tunes at headline shows during July and August.
📆 Tour Dates:
Craig David Presents TS5 tickets are released at 10:00 on Friday 10th November.
Storming the Palace!
Aussie band Crowded House have been thrilling fans for almost 40 years, achieving international attention with their upbeat pop rock as heard on singles "Fall at Your Feet", "Distant Sun", "Locked Out" and "Weather with You".
Teaming up with very special guest Sheryl Crow, Crowded House take over Blenheim Palace for an unmissable show next summer.
📆 Tour Dates:
Crowded House tickets are released at 09:00 on Friday 10th November.
Hynde and the gang are back on the road
Led by the iconic Chrissie Hynde, The Pretenders are entrees into the Rock & Roll Hall of Fame thanks to such huge hit singles as "Brass in Pocket", "Hymn to Her", "I Go to Sleep" and "I'll Stand by You".
Having just dropped their latest record Relentless, they now announce a massive tour to kick off 2024 which includes two nights at London Palladium.
📆 Tour Dates:
The Pretenders tickets are released at 10:00 on Friday 10th November.
The Award-winning singer announces new album and major show
Becky Hill shot to fame as a contestant on The Voice UK, hitting to No. 1 when she provided guest vocals for Oliver Heldens' single "Gecko (Overdrive)". She went on to receive two BRIT Awards for British Song of the Year and Best Dance Act when she appeared on David Guetta's banging anthem "Remember".
Getting ready to drop a new album in 2024, she now announces an exciting upcoming headline show at Newmarket Racecourses where she might just unveil some of her eagerly awaited new material.
📆 Tour Dates:
Becky Hill tickets are released at 10:00 on Friday 10th November.