Few artists compare to Nathaniel Rateliff, with his confessional songs folk style which are often wrought with hurt and struggle. Now working with The Night Sweats, the music brims with soul and a joyful gospel rapture. The songs have a dark primal aspect to them, contrasted wonderfully by the bright sound making their self-titled album more than just music, but a journey to be experienced.
Stax Records have made a great signing, as the record truly fits the legendary Memphis label with moments of truly deep soul. The band also brings a funk and rapturous beat making an oddly wonderful celebration of hurt, despair and insecurity.
Introspective, but not self-indulgent, the raw boned songs rattle along drawing the listener in for a cathartic ride. Rhythm, blues and soul. Melodic horns, jazz drums and rattling piano. All fronted by the wonderful man with the charisma of a true great. Although their sound maybe be boisterous and excitable, it always remains somehow personal and intimate, perhaps due to the truly revealing lyrics as sung by Rateliff.
Nathaniel Rateliff & The Night Sweats will be making an appearance at some truly fantastic festivals this summer. Latitude festival sees them playing amongst some of the biggest names and they'll be on stage at Henham Park, Southwold on Saturday 16th July. They will be a surefire hit when they play Citadel at Victoria Park on Sunday 17th July. Festival tickets are available through Gigantic right now!
Touring in November, Nathaniel Rateliff & The Night Sweats will play headline dates all over the country. Tickets are on sale for O2 Guildhall Southampton, O2 Academy Leeds, O2 Academy Birmingham, O2 Academy Brixton, De Montford Hall in Leicester, O2 Apollo Manchester, Colston Hall in Bristol, and UEA (University of East Anglia) in Norwich.
Nathaniel Rateliff & The Night Sweats tickets are on sale now, so don't hang around!
---
Related News
Buy Tickets With Confidence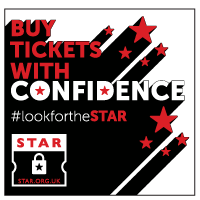 Gigantic are a primary ticket agent and full members of STAR (Secure Tickets from Authorised Retailers)
More info