The heavy metal music landscape would not be same without the legend that is Metallica. With over 30 years experience writing, recording and performing, the heavy metal pioneers that make up this all-important American rock band are true masters of their craft.
Since forming in Los Angeles in 1981, Metallica have produced nine must-listen studio albums, four live albums, 37 singles and have become the seventh biggest selling act in American history.
This acclaimed band's musical prowess has been acknowledged with a plethora of prestigious awards, including three American Music Awards for Favourite Heavy Metal/Hard Rock Artist and one American Music Award for Favourite Heavy Metal/Hard Rock Album for their self-titled 1992 album, also known as 'The Black Album'. The group has also received nine Grammy Awards, five Kerrang! Awards, three MTV Europe Music Awards, and two MTV Video Music Awards.
The raw power of Metallica live needs to be experienced to be truly comprehended. With their fast tempos, extended guitar solos, amplified distortion and machismo-fuelled stage command, this band can blow the cobwebs off songs written decades earlier and make them feel fresh and new. Equally, the experience of hearing more recent songs played live gives fans an altogether different feeling than listening to the band's records. Metallica concerts are truly immersive events and no home audio set-up can compare to the sensation of the pounding beats of songs such as 'St Anger' rattling through your body in the crowd.
If you want a chance to hear classics from albums such as 'Master of Puppets', 'Ride the Lightning' and '...And Justice for All' like never before, make it your mission to get your hands on Metallica tickets. But remember, this high accomplished band has a diehard following so if you want to catch the next Metallica UK tour, you will need to be on your game.
If you didn't manage to get tickets to 2014's Metallica tour, don't despair. James, Lars, Kirk and Robert have recently announced that they will be release a total of 27 live albums before the end of the year. We're sure that if listening to these live shows doesn't inspire you to make the effort to see this influential act in the flesh, nothing will.
---
Buy Tickets With Confidence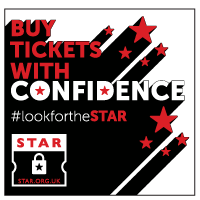 Gigantic are a primary ticket agent and full members of STAR (Secure Tickets from Authorised Retailers)
More info